Reugelith

wrote:

21 Nov 2020, 04:09

2. But the following I cannot understand it by any means: The Yin Yang (I Ching) symbol in La Papesse (1926): It is so out of place; How it is related with Freemason iconography?.
https://i.pinimg.com/originals/83/9b/bb ... 5cf878.jpg
https://insightfulvision.com/gallery-oswald-c.php
I don't know, which is the one of 1889 (probably the second ?) ... both have the Yin-Yang symbol. Here is a Wirth deck, where the Papesse looks, as having no Yin-Yang-symbol:
https://tarot-heritage.com/2019/06/26/o ... benedetti/
I found it again in the British Museum with an 1889 ...
https://www.britishmuseum.org/collectio ... 11-48-1-22
I'm not an expert in Oswald Wirth, also not in matters of Crowley, but Crowley had interests in I-Ching since .... I don't know precisely. At least in the time of Book of Thot, which is later than 1926. The magical records of the beast 666 (1914-1920) show, that Crowley used the I-Ching in this period, eatlier than 1926/27. There are publications, which indicate, that Crowley translated the I-Ching, likely based on Legge, who was much eatlier.
https://hermetic.com/crowley/libers/lib216
The theories of Aleister Crowley to a connection between I-Ching and Tarot, which he gave with the Book of Toth I regarded as nonsense in the time, when I was active with the I-Ching (and I still do), cause there is a better way to connect the Golden Dawn Tarot theories to the I-Ching, if one believes in the Golden Dawn theories about Tarot (which are based on ideas of the Sepher Yetzirah to the socalled "32 ways of wisdom" .... created very early at a date between 1st century and 5th century AD).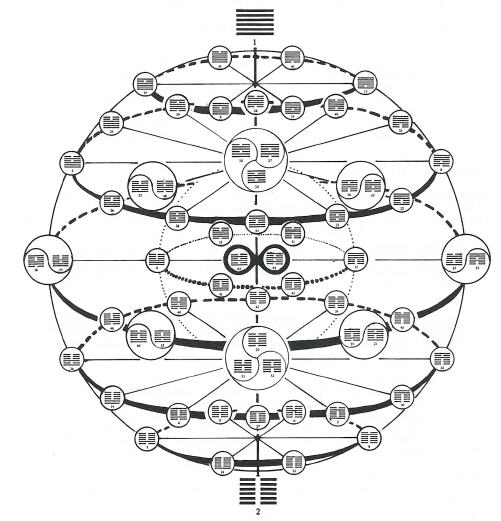 http://trionfi.com/tarot/new-themes/sepher-yetzirah/
I agree with the idea, that there is a mathematical connnection between the "32 ways of wisdom" and the "I-Ching with 64 hexagrams".
I could imagine, that there was some influence of Sepher Yetzirah ideas on the genesis of Trionfi/Tarot decks during 15th/16th century, but I don't think, that this was a very dominant factor.
I don't know, if there was a communicative connection between Wirth and Crowley, but somehow it looks probable to me, that Wirth knew a little bit about English Tarot decks and ideas of the Golden Dawn development.