Insertion in the French version of my essay of the Comment of M Howard about the possible adequation of the division 22=1+4+7+10 with Type A :
Le Tarot Arithmologique
La séquence arithmologique du nombre pentagonal 22 = 1+4+7+10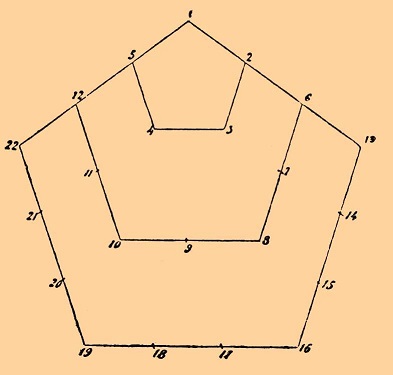 https://drive.google.com/file/d/0B5Hg6j ... sp=sharing
Publication of Andrea's site in the following weeks...
Texte ajouté :
Nota :
M. Howard (Cf :
http://letarot.it/page.aspx?id=608&lng=ENG
) a, néanmoins, émis des réserves, à mon sens, pertinentes, quant à la non-adéquation de la division arithmologique 22=1+4+7+10 avec l' Ordre A - en excluant de ce dernier le Tarot sicilien tardif et en positionnant le Pendu à l'alpha de la Quatrième enceinte- réserves que je traduis in extenso ci.
Finalement, est-ce évident que le Type A soit une exception à la division 1+4+7+10 ?
L'ordre A de Bologne possède les "4 Papi", tous avec un pouvoir identique de remporter le pli ; ceci ressemble beaucoup au groupe de 4 d' Alain. Dans leur ordre de succession, les 3 Vertus font, toutes trois, partie du troisième groupe, associé au nombre 7 ; c'est là le nombre traditionnellement associé aux Vertus, les 4 cardinales et les 3 théologiques. Mais, à positionner les trois, ensemble, avant le Pendu en fait le 13ème [en position ordinale] - le troisième groupe possède alors un trop grand nombre de cartes et le quatrième, trop peu, même si le Fol est inclus. Voilà pourquoi Alain déduit que le schéma "arithmologique" ne correspondrait pas à l'ordre A.
Toutefois, si le Pendu est mis au commencement du quatrième groupe, alors tout devient correct. Est-ce erroné conceptuellement? La thématique de la dernière section est celle de l'ascension au Ciel. Dans les premières cartes de Type A (le "Charles VI", le Feuillet Rosenwald, le Feuillet Rothschild), l'homme y est représenté agrippant des sacs de monnaie. Ceci suggère Judas et ses "30 pièces d'argent" pour lesquelles il avait trahi Jésus. Perçue de cette façon, cette carte ne constitue pas seulement l'exception aux normes des ordres B et C, mais est impliquée dans l'ascension au Ciel, qui constitue le thème régissant la dernière section. Dans ce cas, la division 1+4+7+10 correspondrait encore pour l' Ordre A.
En fait, l'argument de Dummett pour ses trois groupes ne peut spécifier en soi ni à quel groupe le Pendu appartient, ni celui dont fait partie la Mort. Dummett dit (1980 p.394)
"Ignorant les Vertus, nous pouvons dire que la séquence des Atouts restants se divise en trois segments, un initial, l'autre médian et un dernier - toute variation dans la succession ne prenant place seulement au sein de ces différents segments".
Toutefois, là où un groupe se termine et là où le suivant commence ne peut être déterminé par cette méthode -si une carte est invariablement à la même place dans la séquence. Ainsi Dummett positionne la mort dans le dernier groupe dans Game of Tarot, 1980 (p. 399) et dans Il Mondo e L'Angelo, 1993 (p.174) puis dans l'avant-dernier groupe dans "Tarot Triumphant", 1986 (p.47). La même chose peut être dite à propos du Pendu, qui précède immédiatement la Mort dans tous les ordres - l'ordre Sicilien excepté. Il est très probable que le Tarot y fut introduit en 1633-4 par un certain Gouverneur du 17è siècle (Dummett 1980, p. 376) ; il y a là plusieurs innovations qui ne se retrouvent pas dans d'autres jeux de tarots, même si, peut être, reflétant des séries emblématiques du 17è siècle ailleurs en Italie (1980 p. 3,78). Il n'y a aucune manière de savoir pourquoi et quand l ' Hermite fut immédiatement avant la Mort, avec le Pendu, avant l ' Hermite (1980, p. 375). On peut donc ignorer ce fait car très probablement non propre aux ordres du Tarot pré-17è siècle. Contrairement à tous les autres Pendus des premiers ordres A, celui-ci, ni ne tient de sacs d'argent ni n'est pendu par les chevilles, la posture caractéristique du traître. L' allégorie avait été perdue.