mikeh wrote:

The suit objects were also associated with the elements and temperaments. Somewhere on this forum are some quotes from 16th or 17th century authors giving various ways of doing it. Below I give a c. 1476 woodcut of one way (my source is Laurinda Dixon,

Bosch

p. 81.

The association is clear for coins and swords.

The association of cups with water and batons with the wooden falcon-roost the young man has in his hand is more of a stretch. For our purposes it doesn't matter how it was done, only that it was done.
The associations are clear??
Maybe for people with really good eyesight and a knowledge of latin!
In case your not in one of these groups, the associations in the woodcuts are -
Air = the Sanguin temperament = a man of leisure (falconry)

Fire = the Choleric temperament = a swordsman

Water = the Phlegmatic temperament = a man with beads (a merchants counting beads?? rosary??)

Earth = the Melancholic temperament = a miser, I'm assuming
The associations are similar to the well know Shepherd's Calendar.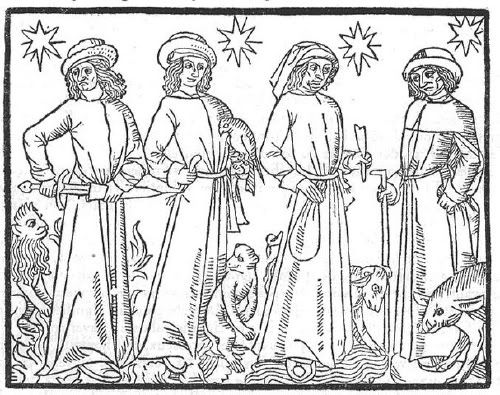 In the Shepherd's Calendar, I believe the Watery Phlegmatic temperament is personified as a merchant, perhaps on the other woodblock as well. This was a common association.
Avarice
however was associated with Earthy Melancholics, as illustrated below.
For folks wanting to apply the Four Elements to the tarot suits this gives them an option of using either Earth or Water for the suit of Coins. Keep in mind, the REAL attributes of elemental Earth
can not
produce the sort of divinatory meanings we find in popular tarot, like Waite's deck. The actual attributes of Elemental Earth are cold, dry, withdrawn, miserly, and self absorbed. Watery attributes will produce a closer set of characteristics to the popular Coin suit meanings.
Water as Cups is probably the worst of all the popular tarot associations. The divinatory meaning they use simply can not possibly be associated with Elemental Water. Water is cold, wet, conforming, unemotional, and lazy. The Cup attributes fit perfectly with Elemental Air.