Ross,
Incredibly nice find - I keep coming across that painting and wondering if it was discussed in an article somewhere. Trexler touches only briefly on it (
Public Life in Renaissance Florence
, 234).
Some thoughts on the details, from left to right:
1. The Time standard bearer has a small dog on the lower part of the horse's caparison; the same image is on the gold(?) shield on the helmeted jouster towards the front of the action. The bridle has a name on its cover:
Francesco;
opposite him in black a "Carlotto" charges forward. There are other names but I can't make them out. Any chance Francesco Sforza's company would have been participating in a joust in 1440? After the Anghiari victory the herald's poem gives "all thanks to Sforza's men" even though they were lead by his cousin, Michele Attendolo. However, I'm not sure of the date of the Sforza adoption of the dog imprese; image here:
http://www.storiadimilano.it/arte/impre ... age060.jpg
2. The woman on the right banner: Psyche, being looked down on by Cupid, perhaps even in a cage (the latter no longer visible on the small hill to the right)? Just read this fascinating article which connects the myth's depiction by the early Medici: "Cupid and Psyche in Renaissance Painting before Raphael," Luisa Vertova, Journal of the Warburg and Courtauld Institutes, Vol. 42, (1979), pp. 104-121.
EDIT - scratch this: The "woman standing on a globe, holding a bow (I can't make out what her left hand is doing)" - the bow is at rest, unstrung, and thus the lax bowstring in her other hand (its colored in alternating bands, but definitely a "rope" of some kind hanging from her hand). Perhaps the fiery desires of the world are being held in check by a version of Chastity, refusing to do Cupid's bidding, thus tying it to the theme of the banner (if Psyche and Cupid)?
Actually I believe the bow
is
strung and the limp rope, made of the same material as the border of the banner, trails back as if to pull the banner (although the banner bearer is clearly not behind the "world" float; perhaps "painter's logic" is at work here).
So Venus with her son's attributes, with Psyche inflammed with passion for Cupid?
Here are triumphs of Chastity (c. 1450-1460) and Love (c. 1460) on birth trays by the same artist who did the cassone in question (Apollonio di Giovanni); the cassone almost appears to have switched out Chastity [or more likley Venus] for Cupid upon the latter's globe :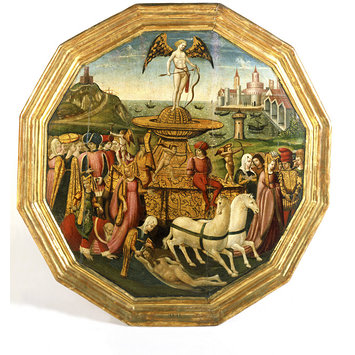 For comparison's sake - the cassone detail:
Phaeded