When I was reading through some of the older threads on this forum regarding the Sola Busca deck I noticed really just how riddled it is with Greek mythology.
I already had a sense of this slightly from some of the names mentioned on the cards, but not to the full extent. For example the queen of cups, 'Polisena', which would relate to Polyxena in greek mythology. She is known for her honour/virginity when she was sacrificed - a cup/goblet is mentioned in this story:
"Then Achilles' son took a full goblet all of gold in his hands and raised on high the libation for his dead father … 'O son of Peleus, my father, receive from me this libation which summons up the dead, and be appeased.  Come, so that you may drink a virgin's pure dark blood which the army and I give to you' ... "
(I would add reference but this is just in my hand-written notes from ages ago! - will maybe find and attach one later)
Either way, this perspective taking into account greek mythology made me associate the two male figures on the SB two of swords with Pan (depicted as a half man - half goat, with horns), and potentially Daphnis, a shepherd who he taught to play the pan flute and fell in love with. If this is what the two figures are supposed to be, however, I am not quite sure what the implications of meaning/symbolism would be.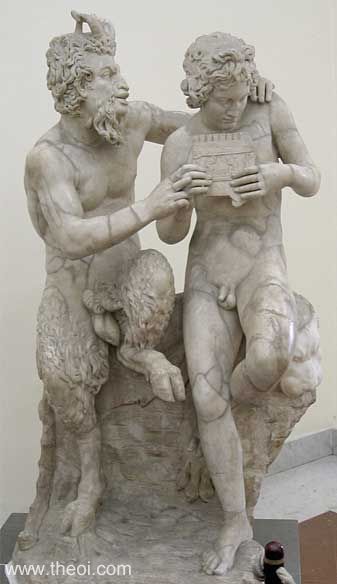 As you can see in the sculpture (from roughly 100 BC), the face/expression of pan resembles the horned figure in the SB pip.
I'm not too sure if this is any new information I'm contributing regarding the SB deck, but couldn't find anything similar when I searched 'Pan' on the forum so I hope that this is some new useful information to someone