I've written this at Aeclectic since 29.01.2012. The development spans a longer time and has its twists and its improvements.
The original thread is reduced a little bit.

Added 2017:
At the begin of the research not all pictures of the Minchiate Francesi were known, so I add here the link to 2 full versions:

41-trumps-version
http://gallica.bnf.fr/ark:/12148/btv1b1 ... rk=21459;2
21 trumps version
http://visualiseur.bnf.fr/CadresFenetre ... hemindefer
The 42-trumps-version had added the card Chaos



all three versions use different number rows

********************************************************************
(original old thread)
Minchiate Francesi - first half
There's some interest to clear the conditions of this unusual deck.
A playing card seller for old cards offers this information:
Le sommet de la vente pourrait bien être atteint avec le «Minchiate» de François
de Poillly, 2ème version, un jeu complet de 98 cartes, estimé 8 000 / 12 000
€. Le Minchiate est une forme florentine du tarot, où l'on a ajouté des atouts ;
très à la mode en Italie aux XVIIe et XVIIIe siècle, il séduisit François I de Poilly
qui en réalisa une version française à son retour à Paris, vers 1660. Son fils
François II a voulu « remettre de l'ordre » dans ces atouts « incohérents », d'où
cette nouvelle édition, connue en 2 exemplaires uniquement.
http://www.millon-associes.com/doc/CP-C ... 051111.pdf
Later COMMENT: I didn't realize immediately, that Depaulis participated in this publication of 2011. As with this it seems clear, that c. 1660 is likely a correct interpretation, I wouldn't have made so intensive arguments for it.
According this there existed 2 versions, one made by Francois I de Poilly (1623 - 1693) c. 1660 (after he had returned from Italy) ...
http://fr.wikipedia.org/wiki/Fran%C3%A7ois_Poilly
.... French
http://www.wga.hu/frames-e.html?/bio/p/ ... graph.html
... English
... a second (possibly modified) version by his son Francois II de Poilly (according some sources c. 1730).
http://books.google.de/books?id=P317zP8 ... ly&f=false
A 3rd deck of a Francois de Poilly (III) exists from 1763 and it occasionally appears in the web ... this is a teaching deck with geographic pictures.
http://www.britishmuseum.org/research/s ... rentPage=7
For the moment there exist only a few cards of the Minchiate Francesi in the web ... as far I know it. The series starts with the card 1 "Chaos", something, which was later repeated in the Etteilla deck of 1788.
given as version of Francois II de Poilly
with small differences to the card as given the version of 1789 by "Wicked Pack of Cards"
Other Minchiate Francesi cards I found ...
... at the page of Tarot passages ...
http://www.tarotpassages.com/francesi.htm
Two others in a pdf.file of Giordano Berti:
http://www.tarot-as-tarocchi.com/1.pdf
In the description of Tarot.org.il we find some pictures ...
http://www.tarot.org.il/Minchiate%20Francesi/
... and also some information about the content. From this limited information one can start some ideas, what this deck is about.
This I will do .. I've some experience to analyze such systems.
1.The chaos.
------------
2. The sun, Helios in the sun chariot pulled by four horses.
3. The moon, a woman with bow and arrow seated on a cloud with the moon at her back - possibly Artemis.
4. The stars, a feminine figure holding a scepter with a stars at it's top, seated on clouds against the background of the stars.
5. The world, an infant seated on concentric circles and holding a sandglass in his hand.
CHAOS and Sun, Moon, Star, World
(My comment) The latter 4 are somehow known as a group ... known in Italian Minchiate as cards 36-39 (also somehow in the Tarocchi as 17-18-19-21), and there these cards are between the "highest trumps". However, the row is disturbed, Minchiate has "36. Star, 37. Moon, 38. Sun, 39. World". And, however, the Minchiate Francesi has these cards at the begin of the series (2-5), not at the end as the usual Minchiate or Tarocchi. So one has to judge, that the designer has some other ideas about the row of the trumps than the Italian card makers.
So it's valuable to look, what the designer has put at the end ...
12 Months ... TIME ?
31. January, illustration of acquarius.
32. February, illustration of pisces.
33. March, illustration of aries.
34. April, illustration of taurus.
35. May, illustration of gemini.
36. June, illustration of cancer.
37. July, illustration of leo.
38. August, illustration of virgo.
39. September, illustration of libra.
40. October, illustration of scorpio.
41. November, illustration of sagittarius.
42. December, illustration of capricorn.
At the end of the row (31-42) the designer has the 12 months in connection to the zodiac. The zodiac ALSO is part of the usual Minchiate and it is located usually at the positions 24-35. But it is a little strange,that the months shall now be the "highest trumps" in this series ... or? And the months in the Minchiate Francesi are fibne sorted from January till December, and the zodiac in the usual Minchiate is in CHAOS ...
CHAOS ... there we have it, the major REASON. Somebody had taken care of the old "chaotic" system, and now - very well - everything is in Minchiate Francesi order.
At the next step we see the 4 elements at cards 5-9 ....
4 Elements

6. The element of air, a woman seated on clouds above a rural landscape.
7. The element of earth, a crowned woman seated on the earth beside fruits in a rural landscape.
8. The element of water, a woman in a sea-shell chariot pulled by two fish by the beach.
9. The element of fire, Perseus seated at a table holding a helmet, with a shield with Medusa's head or face on it.
... and these appear also in Minchiate at position 20-23, so that we have just a very simple "moving the blocks" from old Minchiate to Minchiate Francesi ...
39-36 ----> 2-5
35-24 ----> 31-42
23-20 ----> 6-9
... and a little bit "restore-the-order-operation". Well ... what's restored? The calendar, the time ... that seems to be the main topic.
We have 42 special cards in this game, instead of the usual 41 for a Minchiate. In the usual Minchiate there's a group of 20 (No. 1-15 + last 5) and another group of 20 (No. 16-35) and a Fool. Well, we might understand this as a model of Libra, with two scales with 20 elements and a tongue (the Fool) in the middle.
In this Minchiate Francesi we've now also identified a group of 20 (as shown above; No. 20-39), so very similar to one of 20-elements-groups used by the other Minchiate (No. 16-35), but not identical (3 theological virtues + Prudentia) are replaced by Sun-Moon-Star-Earth). But it are now 42 cards, so we have there either a 20-elements-group plus a 22-elements-group, or we should suspect, that there's another Libra model, with 2 scales of 20 elements and with two Fools as the tongue.
Now we have as information, that the Minchiate Francesi was made c. 1660 or c. 1730 (well, it's no sure, that both models were identical ... it's just, that I'm missing betting information).
For the Tarocco Siciliano we have, that it had TWO FOOLS and we have the information, that it was introduced to Sicily in 1662 - recently Franco Pratesi pointed to an article in a Sicilian magazine, in which it was declared ...
1630: Girolamo Sanna dies in Palermo and among the goods found at his factory there are "200 figuri di tarocchi tagliati et pinti" (200 figures [probably, but not certainly, the triumphal cards of the pack] of tarots cut and painted).
http://trionfi.com/kalos-tarocco-siciliano
... so the value of the "introduction to Sicily" is diminished, but it might well be, that a "new version" of Tarocco appeared in 1662, which had as one of its special features "two fools" (well - it might well be, that this was invented later or earlier, but ...).
Trionfi and Tarocchi cards had their fashions. We have often observed, that specific characteristics appeared in different decks around the same time. If one deck form developed "2 fools", and the same "2 fools" appeared in another deck, it's somehow logical, that the production is near to each other in time.
These are the two Fools in Tarocco Siciliano, modern version:
These seem to be the two Fools of the Minchiate Francesi:
Card 1: CHAOS
Card 29: MOMUS
For CHAOS in Greek mythology we have ...
http://en.wikipedia.org/wiki/Chaos_%28cosmogony%29
For Hesiod and the early Greek Olympian myth (8th century BC), Chaos was the "vast and dark" void from which Nyx emerged.
For Nyx (= night) we have, that she had various children ...
http://en.wikipedia.org/wiki/Nyx_%28mythology%29
In Hesiod's Theogony, Nyx is born of Chaos; her offspring are many, and telling. With Erebus the deity of shadow and darkness, Nyx gives birth to Aether (atmosphere) and Hemera (day). Later, on her own, Nyx gives birth to Momus (blame), Moros (doom), Thanatos (death), Hypnos (sleep), the Oneiroi (dreams), the Hesperides, the Keres and Moirai (Fates), Nemesis (retribution), Apate (deception), Philotes (friendship), Geras (age), and Eris (strife).
... and between them Momus.
For Momus we have, that he became a favored topic by Lucian, a satiric writer of 2nd century, who started to become popular in 15th century (in Trionfi card time) and that famous Leon Battista Alberti, who got the love to Lucian from Guarino (famous Ferrarese teacher), wrote a wonderful amusing work "Momus" between 1443-1450, short after he had been a regular visitor in Leonello's Ferrara (just in the short period, when Trionfi cards were mentioned for the time (1442).
Inside the Alberti text appears Momus' praise of the role of the beggar ... and then the first known Fool in PMB-Tarocchi had more the outfit of a beggar than a funny Fool ...
... and also in the Mantegna Tarocchi ...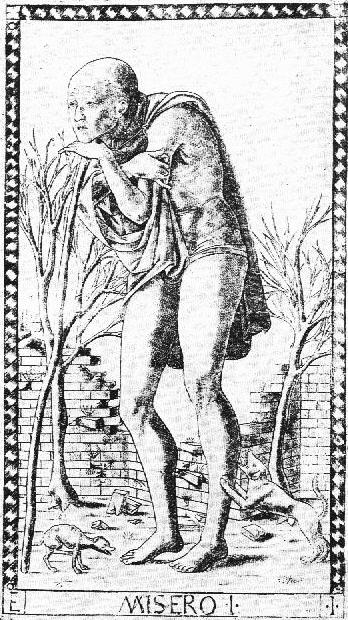 ... and also in Tarocchi Siciliano as already shown:
For another type of Fool, the man with drums and pipe ...
Hofämterspiel 1455
... presented by Dürer himself ...
Dürer 1503, Jabacher Altar
... we have for the Rovereto-Fool, that he suddenly got wings ...
Rovereto Fool, maybe c. 1600
... which in a "not easy recognizable state" still existed in 19th century Tarocco Siciliano:
early 19th century woodcut block, modified for better recognition
For the Tarocco Siciliano it seems clear, that there's a difference between a good fool and a poor fool. This good Fool with wings seems to have developed from the Fama in Minchiate, also with wings ...
... and music instrument (trumpets).
For the Tarocchi development in Sicily we have, that Florentine Minchiate cards played a larger role ... but the deck was called Gallerini there, likely cause the word "Minchiate" had in Southern Italy a sexual association. The same word Gallerini (as a card deck) appeared then in Genova, so "nearly in France" (but actually in Spanish hands since 1528, as also Sicily was in Spanish hands since end of 13th century) . The preference for Gallerini in Sicily went so far, that Sicilian Tarocco was addressed as "little Gallerini".
Well, the background of all this should be, that JUST in 1660 the young French king Louis XIV married Maria Theresa of Spain.
http://en.wikipedia.org/wiki/Maria_Theresa_of_Spain
************
(will proceed)