From the 5x14-article:
Geomancy
very easily is connected to chess:
1111 = King
2222 = Queen
1221 = Rook
2112 = Rook
1212 = Knight
2121 = Knight
1122 = Bishop
2211 = Bishop
4 Pawns =
1222
2122
2212
2221
4 Pawns =
2111
1211
1121
1112
... just for mathematical reasons. However, there seems no confirmation outside in a text, that chess and
geomancy
was really connected in the 14th century minds (not everybody thinks in the mathematical way). Also we observe, that chess players experimented, changed the size of the boards, altered the number of figures, made variations in the rules, had different start positions.
Evrart da Conty had 16 other gods and another row, clearly dominated by the planets gods (which are the top 7 of his row) and also he felt it necessary to fulfill the chess dream with definitions from the Roman de la rose. Why not? This chess symbols enrichment game was a discussion and card designers fulfilled different visions of a possible allegory.
There is no truth in such mental games, there was just the game of building an analogy between different systems, occasionally "elegant" and "understandable by our modern mind" and occasionally "strange" and "not understandable".
***************************
Interesting article:
http://www.shikanda.net/ancient_models/ ... 201996.pdf
has a lot of interesting researches (an attempt to get some order in the geomantic chaos) and finally presents as an idea and observation:
But there is a shocking alternative to this attractive view. One Greek manuscript – the Codex Harleianus 5596, British Museum, from the 15th century CE presents a simplified

geomancy

based not on tetragrams but on trigrams, i.e. only three lines of one or two dots each – out of which of course only eight different configuration can be constructed:
... which is then related to the figures of I-Ching:
I don't discuss, if this "translation" is very clever.
In the more complex versions like al-Zanati's (Footnote 22) the first twelve of these sixteen configurations are identified with the twelve astrological houses and interpreted accordingly, while taking into account the usual correspondences and conventional meanings of the twelve houses, the planets and the zodiacal signs.

Footnote 22: al-Zanati, Muh.ammad, 1320 H./1923 CE, al-Fasl fi usul cilm al-raml, Cairo; al-Zanati, Muh.ammad, 1341 H./1902 CE, al-Aqwal al-mardiyya fi macrifat al-acmal al-ramliyya, Cairo; both in the University of Leiden library.
Here we see, that the 12+4 order is used (for astrological intentions) and this appears also in the Michelino deck with 12 Olympian gods and 4 special figures.
In this aspect it's of interest to know, that Filippo Maria (as others) surely was excited about the finding of the Manilius manuscript in Constance by Poggio ... this shows the 12 Olympian gods as rulers of the monthes or the zodiac (later artflly presented in the Palazzo Schiffanoia. The new elected pope Martin visited as first place after his election the court of Milan. Poggio accompanied him. Filippo should have gotten his information "first hand". His astrologers surely were interested. But the Michelino deck didn't imitate Manilius.
Ibn Khaldun's Muqaddima, written by the end of the 13th century CE, explains the emergence of

geomancy

as resulting from a situation when would-be astrologers, typically poor, under-educated and urban, had no longer access to the astronomical tables and the complex techniques necessary for calculating a proper professional horoscope, and therefore replaced the empirical input (the actual, astronomically absolutely correct, position – in most cases simplified to a mere longitude – of the heavenly bodies at the particular moment which the horoscope seeks to interpret) by the mock-astrology of

geomancy

: a series of chance outcomes of simple manipulations with a stick on sand, with pebbles, beans, shells or with pen on paper, but subsequently interpreted in the light of a conventionalised or better ossified astrological idiom deprived from all spatio-temporally specific astronomical input. This status as a '

poor man's astrology

' is confirmed by the fact that only the first four astrological houses receive an independent input, while the contents of the eight others is merely secondarily derived – which is comparable with a hypothetical situation in which some astrologer would only calculate the planets and zodiacal signs for the first four houses, and ignore the others, or (and this as been widely attested practice astrological since Antiquity) as if the horoscope would be based not on the painstaking calculation of the heavens at the time of birth, but by the mere casting of dice.
Here we learn, that
geomancy
was connected to the terminus "poor man's astrology" already in Arabian sources.
It's said, that many lot books were used in 14th/15th century and that many had an Eastern origin, between them also text with geomantical content. The quality of many of them should be regarded as rather low.
**************
The I-Ching in its long tradition since ca. 11th entury BC had incorporated other systems or was used inside other contexts, which not really present the original state, similar as astrology was mixed with a lot of themes.
One of these "suspicious sub-systems" of I-Ching are the so called "nuclear trigrams" (1st nuclear trigram: line 2+3+4 ; 2nd nuclear trigram: line 3+4+5), which form then a series of 16 hexagrams formed by the addition a nuclear trigram 1 (then becoming lower trigram) plus nuclear trigram 2 (then becoming upper trigram).
In other words: the 64 hexagrams are somehow artificial reduced to 16:
43-01-44-28 ---> nuclear hexagram 01 --->
Geomancy
1111 via
23-02-24-27 ---> nuclear hexagram 02 --->
Geomancy
2222 populus
54-38-64-40 ---> nuclear hexagram 63 --->
Geomancy
1212 acqusitio
63-37-53-39 ---> nuclear hexagram 64 --->
Geomancy
2222 amissio
etc.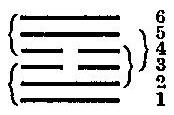 http://shapeless.org/chou_i/structure_hex.html
http://iching.egoplex.com/hidden108.html
The I-Ching is very old, the time of the origin of the nuclear trigram technique is difficult to determine. But China was often the dominant culture, which exported technologies and culture ... so possibly also this.In contrast to the Western culture they never had such a strong interpretation of the planets, at least it appears as not so dominant at the surface.