http://special-1.bl.uk/treasures/festiv ... rFest=0171
Actually I would love to see this text or at least parts of it translated ... in my opinion it would answer a few questions, if it would be known. Here it is given with its content, totally it has 85 pages.
Festival : Wedding in Pesaro of Costanzo Sforza and Camilla of Aragon. (Pesaro: 1475)
Described in
"In q[ue]sto picolo libretto se co[n]tiene le admira[n]de magnifice[n]tie e stupe[n]dissimi aparati de le foelice noze celebrate da lo illustre segnor de Pesaro Constantio Sforza per madama Camilla sua sposa ... . (Vicenza, 1475)"

Page 001
Section "In q[ue]sto picolo libretto se co[n]tiene le admira[n]de magnifice[n]tie e stupe[n]dissimi aparati de le foelice noze celebrate da lo illustre segnor de Pesaro ... ."

Page 002
Reception Of Camilla of Aragon outside Pesaro by a company that included thirteen young people in costume, one dressed as Diana the huntress.

Page 003
Triumphal_Arch Located at the castle of Novillara.

Page 005
Entry Of Camilla of Aragon into Pesaro.

Page 006
Machine: A ship.
Pageant Camilla of Aragon is met by forty merchants from Pesaro and carried through the streets in a ship accompanied by music.
Music

Page 008
Chariot

Page 010
Triumphal_Arch

Page 012
Mass
The nuptial mass, which was celebrated on Sunday 28th May in the Sala Grande.

Page 016
Banquet Lasting over seven and a half hours, the banquet was divided into two parts, symbolised by the sun and the moon, with courses dedicated to gods and goddesses, among them Hymen, Venus, Apollo, Jove, Pallas, Neptune, Diana and Ceres, each represented in short verse performances.

Page 046
Theatrical_Performance Given on Monday, 29th May the performance included poems in praise of the couple given by figures representing the planets.

Page 060
Showpiece_confectionery
In the shape of castles, animals, trees and flowers.

Banquet
Page 064
Poem Written by Antonio Constantio de Fano.

Page 076
Fireworks

Page 077
Joust

Page 078
Arena
closes with page 85

It describes the wedding activities of Camilla d'Aragon and Costanzo Sforza in May/June 1475 and it is one of the oldest festival books known.
The text is illustrated in a Vatican library edition with 36 (? I've read so) illustrations showing allegorical motifs and they have similarities to trionfi cards. 4 are known by a Vatican library exhibition, two others I found recently in Jstor article:
Hymeneus
Muse Erato
I've transcribed 1 1/2 pages, which include a poem about Fama with 15 terzine ... it's the last poem in the text and it was staged at the opening of a final tournament with prizes. I has an opening text (not transcribed), in which Fama is introduced on her triumphal chariot (so its p. 77-79 with the poem starting p. 78) ... a translation of the passage might give an impression, if a larger translation would be worth the energy.
Gia p salir al ciel/leuate lale
Doue ho mia uera eterna&summa sede/
Disposto hauea lassar ogni mortale.

Da poi che uera gPia/or (= Gloria ?) mai non chiede
Piu alcucuno in terra/& loccio e solo un presio
Et del mio nome el premio alcun un vede.

Ma io che vertu uera mai non spresio/
Voltato ho el corso a questo bel conspecto
Per vostra gPia/& (= Gloria ?) vostra honor chi apresio

Io sum la dea/che in ogni gentil pecto/
Et valoroso/pongon et mio nume/
Chiamando at alta ipresa/& gran concepto

Fama e il mio nome/& de splendore/& lume
Ad ogni mortal opra/6 folla aperta/
Per quanto el mar circunda/el sol alume.

Chi laude aprexia /ben ben constante/e certa
Et del mio nome accura piu non tema
Che sua virtu morte sia coperta

Ben che lauara terra/elcorpa prema
Di man gli trago/&faciolo imortale
Pero di me/la morte/el mondo trema.

Cum questo carro eterno /e triumphale
La terra/e el cel circundo/& parlo/& sono
Nivno indegno in questo luocho sale.

Cum mille lengue/& boche/anchor ragiono/
Et di lor laude/& libri empio/& honori
Si che per tuto se ne sente et tono.

Vui mei dilecti adonche/& car signori/
Et generosi caualeri/chauete
Di vera gPia (= gloria ?) gia infiamati i cori.

Lalta prudentia/& forza or mai prendete
Et in questo nobil campo facte proua
Di vertu vera se el honor volete.

Voi iudicanti passion/non moua/
Ogniu secudo el merito fia digno/
Cossi dame el suo premio ciascun troua

Questo sera de la victoria el segno/
Che fra questi altri electi in questo luocho/
Sedendo el portaro P ogni regno

Ogni altor pregio/a tanto honor fia poco/
Pero che gloria eterna honore/et fama
Accende in lialti cuor /piu uero fuocho.

Cossi pesaro gentil/che altro non brama
Per me fia exelso/poi che il cel distilla
SuPna gratia al popul/che sol chiama
Viua Constanzo eterno cum Camilla.
The 4 pictures in the Vatican library exhibition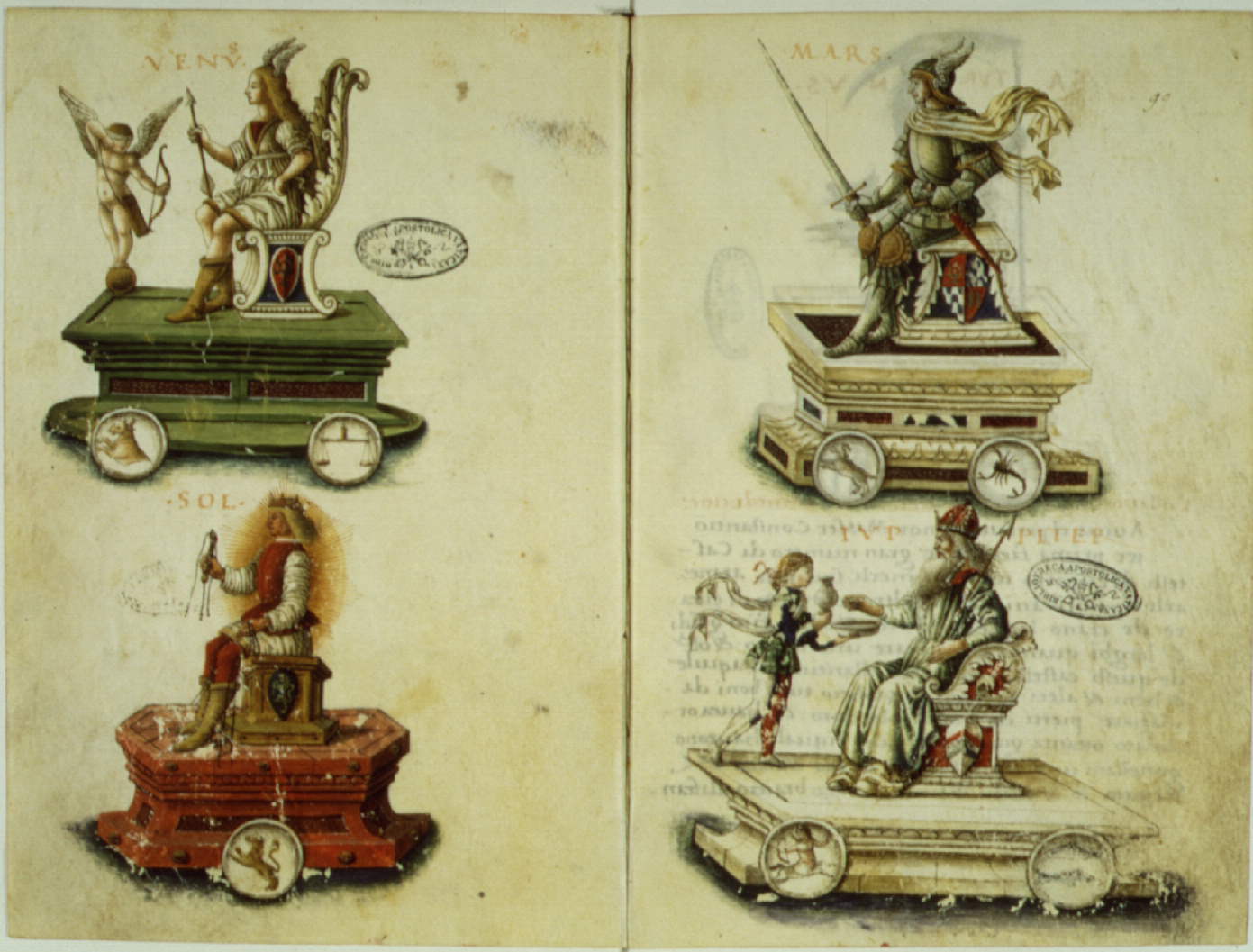 This is a Ratdolt edition of 1488, Flores astronomiae
Comparing the Venus figure, you see, that the 2nd is an imitation of the illumination of the text in the Vatican library.