Nathaniel

wrote:

30 Sep 2022, 11:09

...an early date could perhaps also explain the absence of any object in Time's hands. Simona Cohen, on pp. 68 to 72 of

Transformations of Time and Temporality in Medieval and Renaissance Art

(Leiden: Brill, 2014), presents two 12th century manuscript images showing an allegorical figure representing time in the form of a bearded older man, not holding any of the usual objects;

one of them holds nothing but a scroll bearing the word TEMPUS

. It is therefore entirely conceivable that a personification of Time painted around 1400 might simply have depicted the figure as a bearded old man with no attributive object in his hands.
The only time someone might be presented as gesticulating with empty hands is when speaking or engaged in debate, like on Donatello's famous S. Lorenzo sacristy doors (1440-43):
"If you have to do apostles, do not make them look like fencers, as Donatello did in the bronze doors in the sacristy of San Lorenzo in Florence" (Spencer v.2, Bk. XXIII, [f.179.sup.v]). Filarete's remark echoed a similar injunction in Alberti's renowned De Pictura that an artist should not represent a discoursing philosopher in a manner more suited to a fencer (Grayson 74; Spencer 124). Both contemporary admonitions noted Donatello's rendering of figures in the midst of extreme movement on the bronze doors, while drawing attention to the problematic subject of Donatello's bronze reliefs. At the same time, these criticisms recommend a context in which that subject might be located and understood: Donatello's commission at San Lorenzo coincided with the rediscovery of Quintilian's Institutio Oratoria. Newly available to the avant-garde of Florentine humanists, the Institutio Oratoria lent ancient authority to the role of physical movement and gesture for conveying meaning during speech-making. Correspondences between Quintilian's text, with its remarkably precise discussion of oratorical delivery, and Donatello's gesticulating figures suggest that the recovery of this manuscript allowed Donatello to cast his Christian preachers as ancient orators, thus placing the eloquence of classical oratory at the service of Christian piety.

https://go.gale.com/ps/i.do?id=GALE%7CA ... 7E81411171

(see also: Paoletti, John T. "Donatello's Bronze Doors for the Old Sacristy of San Lorenzo." Artibus et Historiae 11, no. 21 (1990): 39–69, who links the figures to the Church Union debates. Available via JSTOR).
Time isn't arguing with the antlers.
Something
was in his hands. Perhaps a scroll with text on it, as your example suggests, that blended too much into the grey background; once abraded it was too far gone for the retouching artist to bother with (probably couldn't identify what was there). The more I look at it (see image below) the hands holding a scroll make perfect sense (If a book they would have been closer together - but here they seem to be holding near the top and bottom of a scroll), as the head is cocked as if reading what was between his hands. A medieval example with the hands separated while holding a (rather long) scroll: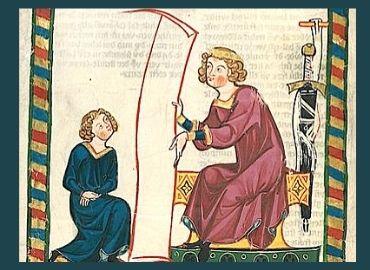 As for Milan - very possible given Petrarch's lengthy stay there. But what cassoni tradition was there? I thought it was more of a Tuscan thing.
Phaeded
PS I will say the hand placement on this armillary sphere (sometimes Time simply holds a T-orb) matches our subject's hands very closely (if an armillary sphere and just thin intersecting circles then that would account even more for how paint loss would have made it impossible to discern by a later artist doing a retouch)
Pesellino's Time with world
the Time in question: