Hi Steve
My synthesis of the question...
Isabella d'Este: Marchioness of Mantua 1474-1539 a Study of the Renaissance Vol. 1
On the Marchesa's return home, the alarming increase of the plague compelled her to leave Mantua and take her children to the villa of Sacchetta, where they spent the summer months. Here, on her birthday, the 16th of May, she received a present of exceptional interest in the shape of a treatise, composed by Mario Equicola, on her favourite motto, Nec spe nec metu.

The Marchesa, as we have already seen, in common with most Italian lords and ladies of the age, was in the habit of adopting special devices and mottoes. The musical notes which gave expression to her love of music, the candelabra bearing the motto Sufficit unum in tenebris which Paolo Giovio suggested, and which were embroidered in gold on her festal robes, may still be seen among the decorations of her camerini at Mantua. There too, inscribed in quaint characters, we may read the words of her favourite motto, Nec spe nec metu, by which she expressed that serene equanimity and philosophic frame of mind to which she aspired, neither elated by hope nor cast down by fear. She chose this motto for her own as early as 1504, when, at the request of her friend Margherita Cantelma, she gave one of the Imperial ambassadors who visited Mantua and Ferrara gracious permission to use the words in writing and in his armorial bearings and on the liveries of his servants, "we ourselves," she wrote at the time, "being the inventor of this motto, and having adopted it as our peculiar device." In the following autumn Mario Equicola, the Calabrian secretary of Margherita Cantelma, who had followed her and Sigismondo to Ferrara, and was often employed by the Este princes, wrote from Blois to inform Isabella that he had written a book on this device, and only awaited her permission to publish the work.

"Most illustrious Lady, -- It was the custom of ancient authors to seek for noble and excellent subjects in order to render their works immortal. Signora mia, although I am only a poor man of letters, I thank God, who has allowed me to serve Your Excellency, from whose rare talents and lively wit I hope some of my writings may acquire fame and authority. In this firm hope, I have composed a book of some forty sheets, in interpretation of Nec spe nec metu, making mention of the words on every page. In the said book I introduce discussions on the meaning of this motto, which will show Your Signory the methods of ancient poetry, philosophy, and theology, connecting Nec Nec nec metu with each in turn, and praising this motto above all others ever composed. I beg you to give me leave to publish and print this little work, and if you wish, will send it to you before it is published. I await your pleasure, certifying that the twenty-seven chapters on this inscription are nearly finished, after which I will illustrate the musical signs."

Mario had apparently divided his book into twenty-seven paragraphs, in allusion to the mystic number XXVIL., vinte sette, another device adopted by Isabella, which, we learn from Paolo Giovio, signified that all the sects (sette) of her enemies were conquered (vinte). Isabella readily gave the desired permission, and the book, printed and bound in elegant covers, was presented to her by Margherita Cantelma on her next birthday. "Your letter and the book which Madonna Margherita sent us," wrote Isabella in reply, "are a more delightful birthday present than any gift of gold or other precious things,since you have thereby exalted our little device to sublime heights."
Mario Equicola
Nec spe nec metu. Dialogus ad Iulianum Medicem
(Mantua: Francesco Bruschi, 1513)
https://en.wikipedia.org/wiki/Mario_Equicola
He presents the Book in 1505 and Isabelle replies only in 1506. It is edited in 1513
He invoques also Prudencia Hope Fortuna and Fate...
About Isabelle d'Este claim to be the inventor and that her Motto should be kept secret
https://books.google.fr/books?id=XvCTFZ ... to&f=false
"Isabelle considered in no uncertain terms, that the motto was a distillation of her own rather than forming part of a long, classical tradition and thought up by other people".
We now know that it was, in it's origin, Cicero's Stoic principle for magistrators of Rome.
The lines come from Cicero, who observed that the magistrates of Rome should be overcome
neque terror nec vis, nec spes nec metus, nec promissa nec minae, nec tela nec faces
https://it.wikipedia.org/wiki/Nec_spe_nec_metu
It will become Isabelle d'Este Motto.
But , if the datation of the Goldsmith was early XVIth century, there would be no real problem to accept Shepard and Huck hypothesis.
BUT ...there is a problem of datation , at least for the Goldsmith -apart that Isabelle d'Este Motto is not on any of the remaining cards of the Goldsmith - between mid-XVth century (datation estimation) and beginning XVIth century...
Isabelle is born on May 20 1474 à Ferrare!
The datation of the Goldsmidt is relatively sure
viewtopic.php?f=11&t=691&start=10#p16385
and
viewtopic.php?f=11&t=691&start=10#p16386
The Goldschmidt cards the old diagnosis "mid 15th century" (Goldschmidt and the Doerner institute), and "mid 15th century" is rather far away from 1512
Nota Bene: the question arises of why is there debate about a Motto that is not in the Goldsmidt ?
The Dasara thesis and the use of the Motto of Isabelle d'Este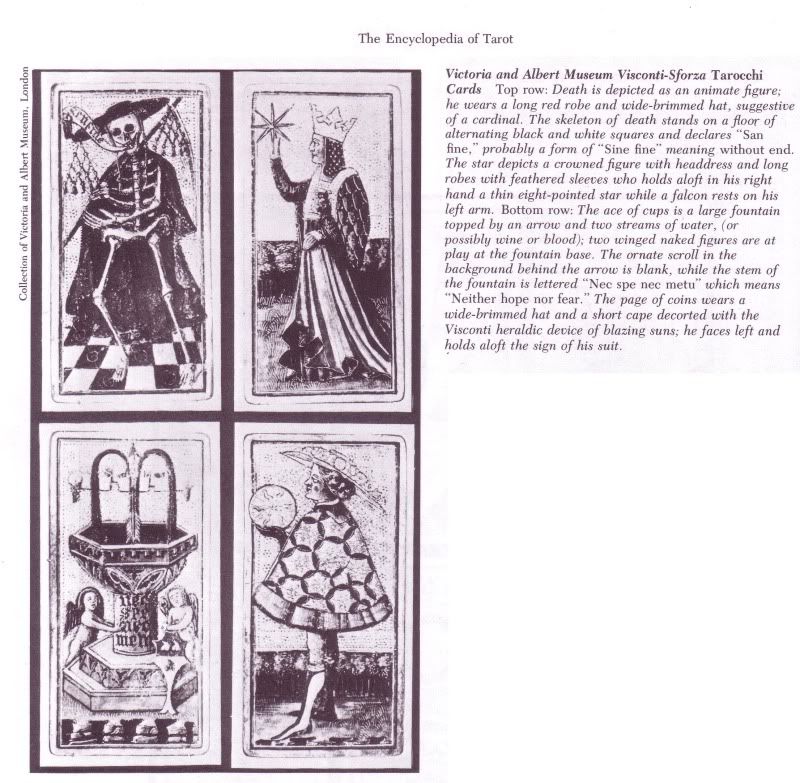 1. John Shephard - Goldschmidt tarot
viewtopic.php?f=11&t=691&start=40#p17783
Yet he admitsthat
two of the cards carrie devises of dauphin or of Dauphiné so there seems to havebeen a French connection
he conneects with Charles VIII oe Louis XII.
2. Huck :
viewtopic.php?f=11&t=691&start=40#p17783
Already John Shephard took the position, that the Goldschmidt cards would be later. Also he had noted, that the motto of Isabella d'Este "nec spe nec metu" had importance for the dating.

He had the information, that Isabella d'Este stated, that she had invented the motto earlier (before 1504) ... and he speculates, that the date might have done 1490-1504. I don't have this information.
For the two V-S-decks, which contain a Visconti viper (Bartsch and Rosenthal), I assume, that they should have been made after 1505, the time, when Isabella d'Este adopted the motto "nec spes, nec metu" (which appears at one card, Ace of cups). Actually I go so far to say, that this deck was developed under the influence of Isabella d'Este, who arranged the crowning festivities for Massimiliano Sforza in 1512 (the deck likely made at this opportunity). I've written about this at another location ...
See also the complete thesis :
viewtopic.php?f=11&t=1102&start=390#p17776
?