mikeh wrote: DRAWINGS. ANON. Probably 15th century. Trivulzio, Milan. Codex 2143 (codice delle Sibylle). Fragments of early pen copies from some of the tarocchi, e.g. 11 and 17, on the old guard paper.
Not known to me
ANON. XV century, pen copies from S series. King, from 20 Apollo; Emperor, from 9 Emperor. In blank spaces within borders of the copy of Petrarch Libro degli uomini famosi, Pojano 1476 (Hain 12808) in the Henry Walters collection, Baltimore. (Probably that referred to by Kresteller, Mittelungen 1907 as in hands of Jacques Rosenthal of Munich.)
Not known to me
(3) BM Add. MS 11866. See additions p. xxvii. [I will look this up, Huck.]
Not known to me
MAIOLICA.
LICHTENSTEIN. Plate, with figure after no. 34 Temperance.
PIERPONT MORGAN (formerly). Dish with figure based on 32 Chronico in same direction as E.
VICTORIA AND ALBERT. Caffagiolo dish, c. 2127-1910 (Salting Collection), with figure after 28 Philosophy, probably after E.
----------------Faenza Drug-Jar, about 1540, c.2108 (Salting Collection), with figure after 28 Philosophy.
All not known
MEDALS. ROMAN SCHOOL. Attributed to Lysippus. Medal of Fabrizio Varano, as pronotary apostolic. The design on the reverse after No. 18 Euterpe and in same direction as E. Must date before Varano was made Bishop of Camerino, i.e. between 1471 and 1482.
Not known to me, but Fabrizio Varano was the pupil and later sponsor of Lazzarelli.
The medal is described in this article
http://www.jstor.org/pss/857529
you possibly get a picture in your library
PAINTING. VICTORIA AND ALBERT MUSEUM, 428-1889. Painted ceiling from old house in Via Belvedere, Cremona. About 1500. Apollo and the Seven Muses, with reminiscences of the Tarocchi most clearly seen in relation to 12 Urania, 14 Erato, 15 Polyhhynmnia, 18 Euterpe, 19 Clio.
http://www.vam.ac.uk/collections/period ... index.html
about 1500, artist Alessandro Pampurino, the name of the original house is Casa Maffi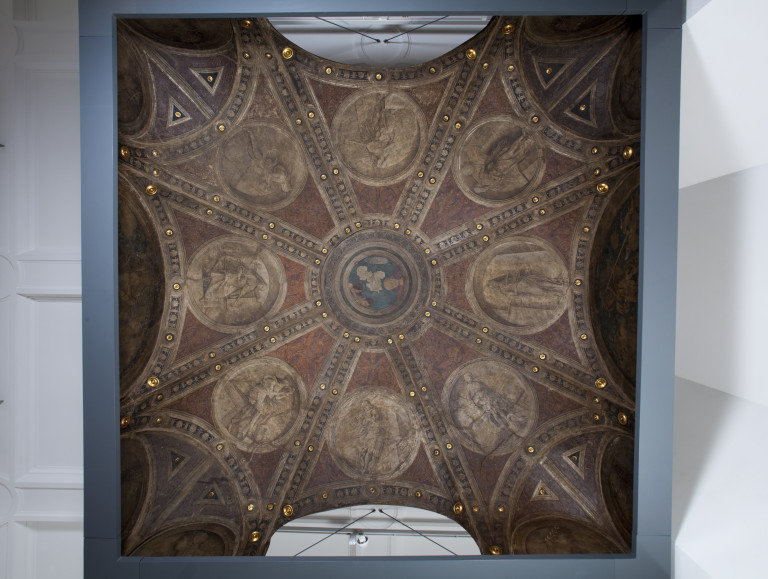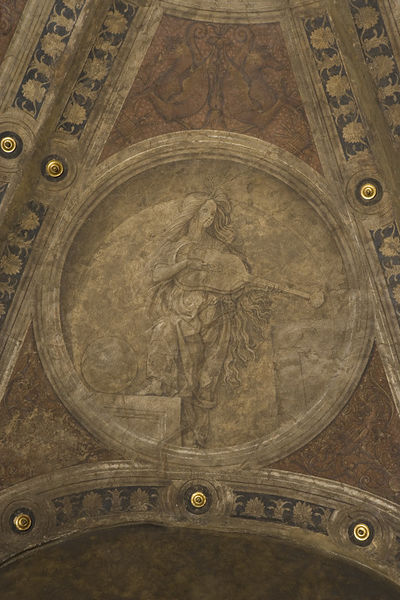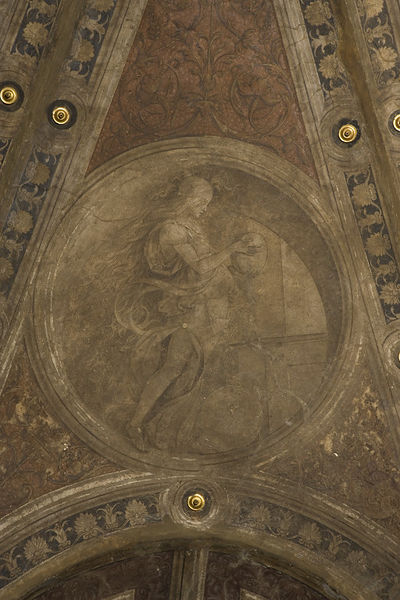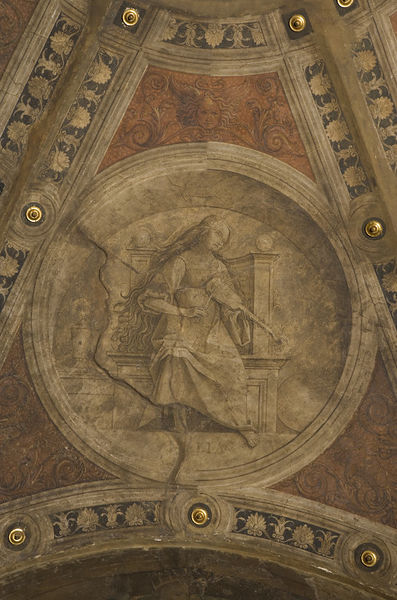 There is more at the web page, also an pdf:
http://collections.vam.ac.uk/item/O7290 ... asa-maffi/
SCULPTURE. BOLOGNA, Museo Civico, 615. Relief with figures after 1 (Beggar) and 5 (Gentleman).
Given by Andrea Vitali in Tarocchino Bolognese, the composition is called "Caritas", at Museo Civico in Bologna
MILAN. San Ambriogio. Wood carving in choir; the 8th seat on the left. After 1 (Beggar).
not known by me
WOODCUTS. MICHEL WOLGEMUT. Copies or adaptations of 11, 12, 13, 15, 17, 18, 19, 22, 27, 28, 29, 34, 35, 37, 39, 42, in the series of cuts made for an unpublished work, Peter Danhauser Archetypus Triumphantis Romae, 1493-1497. See Valerian von Loga, Beitraege sum Holzschnittwerk M.W.'s. Pr. Jahrbuch xvi, 236.
This is very interesting. See
http://trionfi.com/0/m/10/
The project knew about 360 woodcuts, stayed unfinished, and about 60 woodcuts are said to have survived. (I know only 1) Naturally this were not only Mantegna Tarocchi motifs.
I think, that Dürers Mantegna pictures might have some correspondence to this work. Also I think, that there is a relation to the marriage of Bianca Maria Sforza with emperor Maximilian. The project probably stumbled about changed political conditions. France attacking Naples etc.
Adaptations of details from E series 8, 35, 39, 42, 47, in his Planets (Bartsch 41-47).
I don't know, what this refers to.
ANONYMOUS. In the Low German Nyge Kalender printed by Steffen Arndes, Luebeck 1519, Mercury and Saturn. Mercury follows the Burgkmair print in reverse. See A. Warburg,
Ueber Planetengoetterbilder im niederdeutschen Kalender von 1519
, Erster Bericht des Gesellschaft der Buecherfreunde zu Hamburg, 1910 (reprinted A. Warburg,
Gesammelte Schriften
, Leipzig 1932, ii. pp. 483 and 645).
I've seen the Burgmair prints, I think. Not so remarkable.
[/quote]