One of the reason to suggest a date of c. 1465 in the earlier Rosenwald article ...
http://trionfi.com/rosenwald-tarocchi-sheet
... was the existence of the 2 Magician/Fools around this time, once found by Michael J. Hurst and the additional feature of a Fool/Magician without a second Fool or Magician inside the Rosenwald deck. We attempted once to celebrate this coincidence with this arrangement.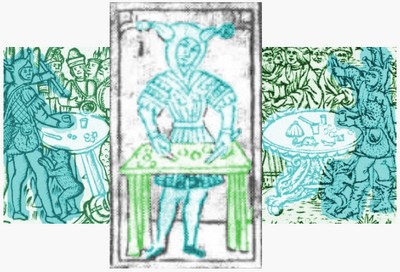 written in November 2011, before Franco Pratesi had lots of findings of Trionfi notes in Florentine business books.
The both other Magician/Fools appeared in almanachs of the years close to 1465, it was from this perspective logical to conclude on a date near to 1465 for the Rosenwald, and the oldest note of Minchiate in 1466 by Luigi Pulci contributed to this suspicion.
A further (possible) confirmation for c. 1465 was the Arnold Esch report in 2013 with 107 new Trionfi documents between 1453 and 1465, from which some documents made it plausible, that Trionfi decks became "very cheap" around this time and were suddenly part of the mass-market. This was confirmed through the Bolognese document 1477, in which it seems, that Trionfi decks had then only 5/4 of the value of normal decks.
In the data known from the silk dealers (till 1460) Trionfi cards were always much more expensive than very cheap cards.
Well, we have, that the Rosenwald cards definitely looks as a mass-produced very cheap deck. From various perspectives it seemed plausible, that c. 1465 was a plausible date.
The "Perugia 1501" doesn't kill these suspicions. Our expectations around the time, when the first Rosenwald article was written, was, that the first deck made in the Rosenwald type was a deck without numbers. The Rosenwald itself looks, as if somebody had experimented with numbers and the Leinfelden of Perugia 1501 possibly had fixed numbers.
Mass-produced decks has better chances to stay long in business, being repeated very often by later producers. The effect, that players prefer cards, which they already know, is well known. If you find a deck, which clearly has a later date for unknown reasons, costume experts often have reason to date the design to a much earlier time.
The original engraver was very careful in the arrangement of the rows of the trumps, actually only the Fool/Magician and the strange 13th card Fortune are a surprise. If the 13th card Fortune was just a humble engraver error, or part of an earlier row of the trumps, we can't know.
On the technical side (of the row) we see, that the (later enduring) disappearance of "II Papessa" in the deck made it possible, that Fortune could leave its position 14 and could change to the also enduring position 9 (in Florentine decks), leaving all cards between 10-12 not affected and reducing the trumps from 21 to 20 with the result, that Death (earlier position 14) suddenly was 13, as later usual in many Trionfi and Tarot arrangements.
For the recently reactivated thread the order of trumps in Rosenwald is given with ...
9. Rosenwald sheet. No TITLES. Only numbers.

http://trionfi.com/0/j/d/rosenwald/

[0] x

[1] El bagatella

[2] La papessa

[3] Imperatrix

[4] Imperator

[5] El papa

[6] L'amore

[7] La temperantia

[8] La iusticia

[9] La fortezza

[10] Lo caro triumphale

[12] El gobbo

Not numbered:

La rotta • Lo impichato • La morte • El diavolo • Fuoco (Tower) • La stella • La luna • El sole •

El mondo • Lo angelo
.... but one should also observe the natural row of the motifs at the sheet:
1 Fool/Magician
2 Papessa
3 Empress
4 Emperor
5 Pope
6 Love
7 Temperance
8 Justice
9 Force
10 Chariot
11 Father Time
12 Hanged Man
13 Fortune
14 Death
15 Devil
16 Tower
17 Star
18 Moon
19 Sun
20 World
21 Angel
It is easily possible, that this once was a relevant and real trump row.