mikeh wrote:Huck: It may be that it's not the rabbit that's sacred to Venus, but the hare. Strauss may have confused the two. Hares have their tails downward, e.g.

http://www.treknature.com/gallery/photo192212.htm

. The animals in Titian's painting look more like hares than rabbits: bigger and quicker, for one thing. Yesterday I happened to go to my local museum to see a traveling exhibition of Greco-Roman art from the British Museum. The placard for one of the pieces, prepared by the British Museum, said that hares were a standard love gift between older males and younger males in Athenian society. I would expect that this information comes from classical literary sources that would have been available to the humanists of the later 15th century.
... :-) ...
mikeh wrote:Huck: a rabbit going in its hole would fit the overall symbolism: love getting away from Oenone.
All rabbits (except the cottontail rabbits) live underground in burrows or warrens, while

hares

(and cottontail rabbits) live in simple

nests above the ground
http://en.wikipedia.org/wiki/Hare
Dürer was at least at some time (1502) in his life a hare expert:
.... As I said, I've my doubts about the young humanism in Germany.
Well, we had in Nurremberg the Danhauser project, which is said to have been done c. 1493 till 1497. Then the project was stopped (possibly cause of disappearing or missing German interest in their new empress ... ?). It's said that they had collected about 350 engravings for a book about "Roman Triumph" and figures of the Mantegna Tarocchi were part of it. About 50 pictures are said to have survived.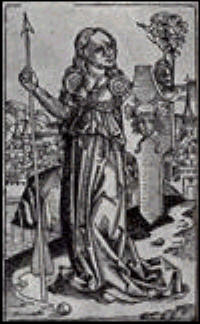 I didn't get further details in earlier attempts, maybe the research situation has improved by advance in the web.
http://trionfi.com/0/m/10/
A part of Dürers studies to the Mantegna Tarocchi motifs (1495) might have been part of the project, the second part is given to 1505. In the report about the Danhauser project a participation of Dürer isn't mentioned, but if we look at the situation (Dürer as a pupil of Wolgemut), it seems plausible, that Dürers Italy-journey was used in more than in one way and that there was likely a least a vague relatin. Dürer went to Italy in autumn 1494, short after his wedding, cause a plague was approaching Nuremberg.
****************
Btw. ... we had once (2009) this discussion ...
http://tarotforum.net/showthread.php?t= ... ght=zucker
... with a comparison of these two pictures: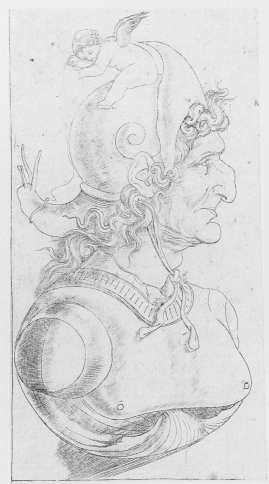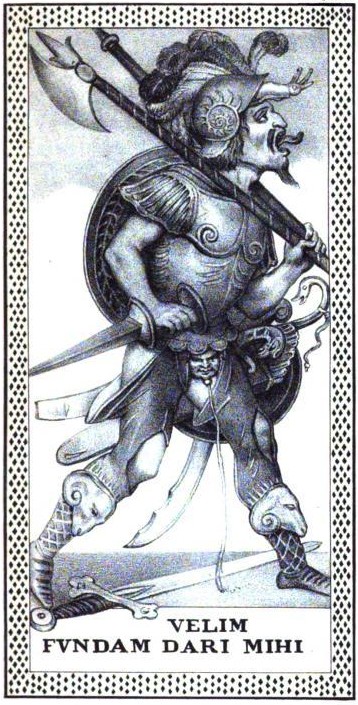 Leber Tarocchi card (modern reproduction)
... both related to a Zucker article.
Well, an extravagant helmet as in ...
.. and ...
... and in Sola-Busca Tarocchi occasionally.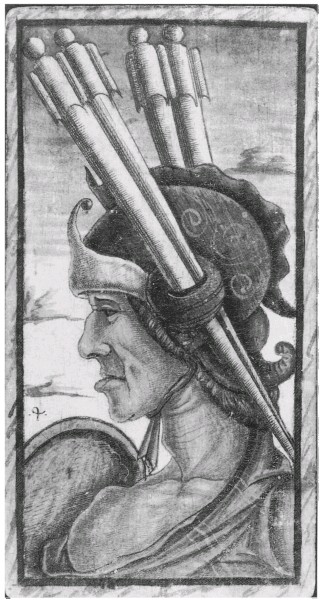 **************
Btw. ... this work of Dürer is given to 1495.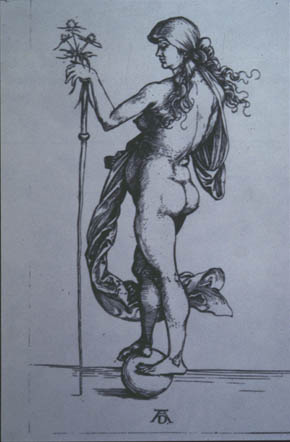 http://msuweb.montclair.edu/~furrg/mel/ ... rtune.html
called "kleines Glück" = "minor Fortune", an expression for an element in the 16 figure divination of the geomancy.