I've wondered for some time who/what is displayed on the World card in the Marseille Tarot.
We have the "caped figure" of the Tarot de Marseille I, as shown on Vieville, Noblet and Dodal; and the "scarfed figure" as shown on Tarot de Marseille II, such as the Conver and Chosson.
I've pretty much assumed that the scarfed figure is Fortuna.
Chosson:
Of course, Sophia is a common attribution; and I'm sure there are others as well.
I've always had a hard time though avoiding the "four evangelists". That's a pretty darned Christian interpretation to have, and needs to be considered in any explanation.
The caped figure has always been more difficult. The figure is nude, or partially covered. Here are a few examples, the Sforza Castle, Jacques Vieville, and Jean Dodal:
And the Noblet:
Originally, I assumed this was Christ. Christ in Glory is such a common image, dating hundreds of years before tarot, and carved on countless cathedrals though Europe. Heres one from Chartres Cathederal:
What's bothered me about identifying this character with Christ is that I've never seen an image of Christ in Glory where he is naked. Hmmmmm.
Last year, I stumbled across a couple of images that make me wonder if the naked figure is simply a depiction of "a soul"?
I found this image in a book called Romanesque: Architecture, Sculpture, Painting. Edited by Rolf Toman. Page 292.
The caption reads "Jaca (Aragón), San Salvador y San Gines. Sarcophagus of Infanta Dona Sañcha: display side. c. 1100"
Here is the whole side of the sarcophagus:
http://www.tarothistory.com/images/donaworld.jpg
The book describes it as:
"One of the most important works of the Spanish Romanesque period not connected to an architectural structure is the sarcophagus of Dona Sañcha, daughter of King Ramiro I and the widow of the count of Toulouse; it used to be kept in the convent of Santa Cruz de la Serós not far from Jaca. On the front, underneath arcades, are two scenes in memory of the countess who died in 1097: on the right Dona Sañcha herself is depicted between two nuns or maids, and on the left is her burial. In the center, the soul of the dead is shown by two angels within a mandorla, an image of salvation."
And here is a website that goes into more detail:
http://findarticles.com/p/articles/mi_m ... 86165/pg_3
Here's another example of a similar depiction: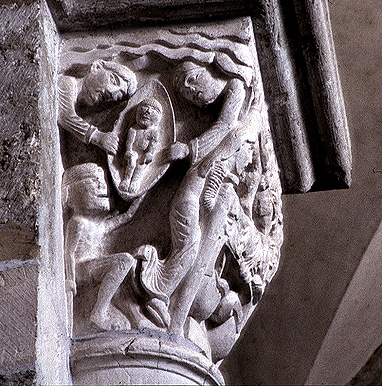 The caption for the image says:
Lazarus' soul in infantile innocence is carried up to Abraham's bosom in a mandorla.
From this site:
http://www.beyond-the-pale.org.uk/Lazarus.htm
Well, bless my soul. ;) That's pretty cool.
Is the depiction on the Tarot de Marseille I World card simply a "soul"? Has anyone ever come across similar representations before?