Re: How eccentric is the Sola-Busca?
Posted: 19 Oct 2017, 22:36
Phaeded

wrote:

↑

09 Feb 2015, 16:30

3. Is it not odd that Ercole would feature the d'Este device of the St. Geroge defeated dragon on his coins, but then have the dragon, threatening with open mouth, hovering right above the king's head on the highest trump in the SB? Yes, every element does not have to refer to a dynastic emblem/stemma, but in this case it was featured on the coin of the realm and hard to believe its portrayal on something equally portable as cards would not have bothered that court. The dragon does appear as coopted - the dragon wings on the [SC]Ipeo figure - but not run through like St. George's foe.
It is possible the dragon of the SB is related to the Alexandrian romance cycle - the magician Natanabo, seduces Olimpia in the form of a dragon:
Conception of Alexander by Natanabo and Olympias watched by King Philip -
Olimpia with Natanabo as half-dragon half-goat:
Other illustrations also show the dragon, but not as explicit as the above: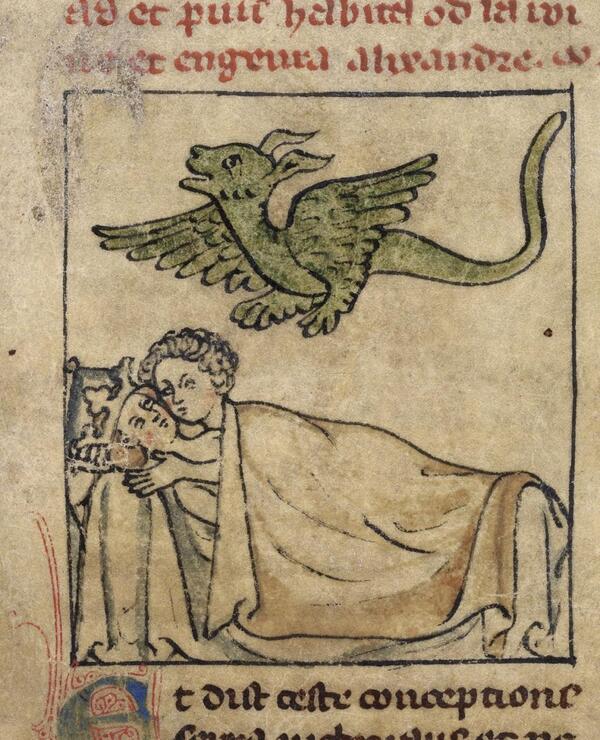 Natanabo kissing olimpia in form of dragon:
Also, in the Alexandrian romances, it is Alexander not Daniel who kills the Babylonian dragon --