mikeh wrote: Interesting.

But I am not convinced that German regular cards would have influenced Italian trump cards, is only out of local pride. The Northern Italian nobles no longer saw themselves as Germans first, Italians second--especially ones of commoner descent like Sforza. It could only have come from Barbara of Brandenburg (

http://en.wikipedia.org/wiki/Barbara_of ... %931481%29

); I don't think she would have had enough influence.
If the hypothesis is true, that Bohemia had a big role in the very early distribution of playing card, the influence of Bohemian cards in Italy would be very natural. And Bohemia had been then emperor-country., Prague had a Golden Era.
"Local pride" regained force, after the pope returned back (1377), and history has it, that there were fights of papal armies with Italian cities ... for instance Florence (which mostly was pope-friendly during 15th century later), found in 1377 not much enthusiasm about this development. Generally there's an old Gibellines/Guelphs conflict since older times in Italy, one part being emperor-friendly, the other pope-friendly, and the dominant party in cities occasionally changed.
Mantova was generally emperor friendly cause of early family connections and its close local position to a German-Italy trade way.
Here is another possibility. I am very much out of my element, so I may have my facts wrong, and I can't seem to find good sites on the Web to check my memory. In Italy--maybe even Bologna--there was the sequence King-Queen-Knight-Maid-Ace sometimes in Batons and Swords. Aces were high in those suits. The Knight drops out and we have King-Queen-Maid-Ace. So the Popess takes the place of the Maid, and the Bagat takes the place of the Ace (the One).
Minchiate had and has these 2 female - 2 male fante phenomenon, and the knights are different animal-man compositions (centaurs).
Well, this is not a "proven" Minchiate deck, but a "suspected Minchiate deck". Rosenwald Tarocchi. You can see female fante and centaurs.
http://trionfi.com/rosenwald-tarocchi-sheet
Well, that's an interesting point. It's inside the discussion, that the Rosenwald Tarocchi had been a very early Minchiate form with possibly "no fool", but a mixed Fool-Magician figure.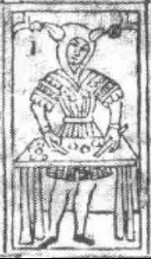 Inside this discussion is the consideration, that a fourth Rosenwald sheet might have existed, which completed the other 3 (which are not all from the same, but a similar production) to a deck with 96 cards - which was just a very economic consideration (you could print 24 cards on one sheet, so with 4 printed sheets the deck was done).
We possibly had (not proven) around 1463-1465 a fall of the prices for Trionfi decks, likely thanks to a cheap mass production, mainly indicated by the Esch research, which is in a shameful manner here intensively ignored in the discussions, which often prefer to talk about endless specifications of iconographic details, which often cannot add anything to the research progress ...
viewtopic.php?f=11&t=967
... though Esch report is actually the big research sensation of the year 2013.
If one assumes, that the Rosenwald Tarocchi fragments might have been such a cheap deck of this very early time (1463-1465) or at least close to it ...
the Rosenwald Tarocchi still had a Popess.
Another question: If there is a Popess, there has to be a Pope.
We've an earlier maid in the playing card development, and a following Popess inside some Trionfi games.
Chess has ...
Bishop-Queen-Emperor-Bishop
... in sequence on the board, and Tarot has in sequence ...
2 Popess - 3 Empress - 4 Emperor - 5 Pope
An Emperor is an "escalated king", an Empress is an "escalated queen", and an "escalated bishop" would be a Pope or a Popess.
We (possibly, but might have been different) had Pope and Popess inside the Cary-Yale with 5x16 structure, and with some background in Chess iconography.
Another possibly Chess-related deck is the Charles VI Tarocchi, which some (as far the trumps are concerned) consider a fragment, but I consider it to be complete: 16 trumps. Empress is missing, Popess is missing, Magician is missing, a Fool is inside. The suspicion is given, that this deck is from Florence.
Florence was then (time of the Charles VI; I assume 1463) relative pope-friendly, and the deck avoided the Popess, consequently it had to avoid also the empress. The Pope took the more central position of the Queen or of the King of Chess, leaving the Emperor possibly the weaker position as Queen-replacement. The political line of papal politic was the supremacy of the pope against the emperor. As the current pope Pius II had rather friendly relations with the current emperor this question possibly was not a real problem.
For the Fool/Magician problem we have, that the Magician had no role in the Charles VI concept ...
... and in the Rosenwald Tarocchi it looks, as if Magician and Fool would have been merged on one card.
Early Trionfi cards had no numbers. If we assume (what I personally generally do) that the early Trionfi phase knew many experiments (quite in contrast to any Ur-Tarot idea) with variants in the motifs and a number of 14 or 16 cards usually), a clever card producer might have found to the idea, that a good export deck should include a great number of all (or the most) used motifs. So possibly Minchiate was born with a great number of trumps (40 cards; Berni later 1526 spoke in context of "sminchiate" of 200 cards) and threw them as a "cheapest deck of his time" on the market. Just printed, no gold, not painted, possibly even not cut, but with many motifs. Each user could buy such a deck, cut it by his own hands, and if he desired, he could paint them (more or less a self-made deck). Cards, which the user didn't like, he could throw away (actually we have with the Orfeo deck in Lucca such a reduced solution, it had 69 cards, though at a much later time). And the numbers he could add in the manner, that he preferred.
By reducing everything, which took much time and was by this way expensive, a market for the whole population was started, from which the most couldn't take part in this interesting game, which found so much attention in the upper classes.
It's logical, that after the high price market in the 1450s somebody started such an offensive, if not in 1463-65, then later. Also it's logical, that the common producer market wasn't very lucky about such a price breaker. Possibly the initiative came from outside of Italy", possibly Flemish merchants had some hands in this development (very indirectly indicated by the Esch documents, not really proven).
...
Huck wrote,

Florence, as it seems, never had a Popess, but Milan had.

That is not clear. Most of the early A-order decks do have Popesses. Dummett (

Game of Tarot

p. 402l) reasoned that the Bagat must have been unnumbered, because the highest trump is numbered 20, and all the rest are one less than they normally are, except for Death at 13. See

http://4.bp.blogspot.com/-YlU6F53x-_E/U ... .35+PM.png

. The same practice was followed in the Bolognese (where the lowest number is 5Love) and the Catania, and most likely was followed in the Orfeo, he says. Other A-order decks solve this problem by stopping the numbers before 13, so that Death won't get 14.
[/quote]
I don't understand. In which context Dummett says, that the Pagat was not numbered. Charles VI ?
Relating to the numbers on the cards?
One has to see, that the numbers on the Charles VI cards were likely not from the same time as the production. Perhaps somebody tried to reconstruct the earlier context of the cards, and noted the number not very politely on the cards?
Just a note:
The "A-order", "B-order" and "C-order" termini are extreme unfriendly to future readers. Eastern, Western, Southern row might be more clear.
.... :-) ... btw. 11.11. at 11.11 a.m.
Cologne carnival has opened the new session.