What I ask myself and others: Are there any known signs of an early celebration of the Anghiari battle? Either pictures or statues of participating condottieri in triumphal manner, reports about victory celebrations, cassoni with fighting scenes related to the battle, praising poems, historical reports (at least these should have existed), etc. ?
Are there further signs of a more intensive Petrarca-reflection around 1440?
****************
I found this (a list of Petrarca biographies till mid of 17th century)
http://books.google.de/books?id=U4jtc2- ... ca&f=false
The list is said to be chronological ... unluckily not given with dates.
Pier Paolo Vergerio the Elder (1370 - 1444/45)
http://en.wikipedia.org/wiki/Pier_Paolo ... _the_Elder
He published "Africa" in 1397, and (likely ?) his Petrarca biography is too old to be of interest in our specific question with a focus on "around 1440". Since 1417 he worked for Emperor Sigismund and he died in Hungary. So he likely wasn't of too much interest for the Florentine development (?). But it seems plausible, that he might have accompanied Sigismund to Italy in 1431-1433 (?).
I found notes about a work of Leonardi Bruni in 1434, perhaps this relates to a communication between Bruni and Vergerio? Bruni compared Dante and Petrarca. The work is listed above before Vergerio, perhaps indicating, that Vergerio wrote his relative short work after Bruni.
http://books.google.de/books?id=2oP7WLD ... 40&f=false
I saw it mentioned, that Vergerio had Petrarca letters and that these were published "after his death".
[later added: I saw this text mentioned as the first serious biography and text research by Ersch-Gruber dictionary article; this article, though from 19th century, is rather intensive;
http://books.google.de/books?id=TgUn262 ... navlinks_s
- see "Petrarca"]
The next on the list is Giannozzo Manetti (Florence). His work is said to have "echoed Bruni", so with some security from "after 1434". I found mentioned a work "tre corone" (dated to c. 1440), in which Manetti compared Boccaccio, Petrarca and Dante, and this hall have influenced the famous 3x3 pictures (3 poets: Dante, Petrarca, Boccaccio; 3 famous women, and 3 famous Florentine condottieri) in the Villa Carducci. Manetti's "Vita Francisci Petrarcae", as I understand it, is likely inside the "tre corone" (?).
This man, already known as a hater and persecutor of gambling activities, is likely VERY IMPORTANT in our question.
[later added: I saw both texts getting a bad critique by the Ersch-Gruber dictionary article, which more or less only accepts only some later biographies as critical and worthwhile. Manetti's text is taken as a "praising" article].
The next is Sicco Polenton ...
http://en.wikipedia.org/wiki/Sicco_Polenton
... who lived in Padua and died there 1447. Well, it's Padova and not Florence, and so possibly of less importance. If the text is really "after 1440", this biography is possibly a reflection of the increased Florentine interest, which involved Venice, possibly cause Petrarca material wandered after the death of the author to the Venetian library. [later added: I saw this text estimated to c. 1433 by Ersch-Gruber dictionary article]
Antonio da Tempo ... said to be of lower quality. This is not the famous "Antonio da Tempo", who lived already at begin of 14th century. He is said to have lived also in Padova. Well, it's not clear, when he wrote.
Then follows a text either by Pier Candid Decembrio or Filelfo (? likely Filelfo and not before 1444). But I should check, what I find about Decembrio as a possible author in this topic.
****************
Well, working on this list just to get a personal overview, I find that Manetti and possibly Decembrio of interest.
I've stated earlier, that Manetti became poetus laureatus. This I got from ...
"Messer Lionardo of Arezzo (1443)" should be "Leonardo Bruni", born in Arezzo c. 1369 and died in Florence, March 9 1444. It's variously confirmed in other texts, that Manetti made the funeral oration for Leonardo Bruni, but I've found no note, that he became poeta laureatus for it.
So I got suspicious about it, and I searched the Italian passage ...
http://books.google.de/books?id=ZHs2AAA ... zo&f=false
The expression poeta laureatus" isn't used, but "corona d'alloro" and my poor Italian doesn't know, if this is the same.
So maybe somebody with better Italian might give a commentary. This case seems not of minor importance, and also the translation of "... they crowned him with a laurel crown, a custom which had not lately been observed."
should be either confirmed or criticized, cause it's of importance for some conclusions.
Actually we have had the following activities:
1341:
Petrarca was crowned as poetus laureatus, and this became a big story to him.
1441:
Alberti engages in a literary contest in October 1441, so just parallel to the great triumphal festivities in Cremona, celebrating the marriage of Francesco Sforza and Bianca Maria Visconti. Alberti's action, sponsored by Piero de Medici, possibly aimed at a "100-years-memorial" of Petrarca's crowning as poeta laureatus in 1341.
The debate continued in

October 1441

, when

Alberti

organized a

vernacular poetry

competition, the certame coronario (poetic contest for the crown), with the patronage of

Piero de'Medici

(Bertolini 1993 and 2003). While modeled on ancient, perhaps Greek,

competitions, the tournament's aim was to demonstrate the potential of the vernacular to

treat a refined subject (friendship, a classical topos, was the theme). The contest, held at

Santa Maria del Fiore

and judged by ten members of the papal curia, brought together all

the major contributors to the nearly decade-long argument over the origin and role of the

vernacular. It ended in a stalemate when the judges, deadlocked by debate over the

suitability of the vernacular for oratory, were unable to choose a winner.

In a Protesta letter composed after the debacle, possibly written by Alberti, one

critic,

possibly Leonardo Bruni

, is singled out: "there is one among you who…claims it is

unworthy for a vernacular to strive against a very noble literary language, and that such

contests should accordingly be forbidden."36 Stubbornly, Alberti persisted in promoting

the vernacular and planned a second contest for 1442 with envy, another classical topos,

as the theme. At this point, Bruni publicly mocked the contest and Alberti in a letter to

their mutual colleague Leonardo Dati: "a good bit more could be said against stupidity

than against envy. Both are evils, to be sure, but stupidity is the worse one."

The questione della lingua and certame coronario reveal two divergent approaches

to language, antiquity, and authorship. Bruni finds (or devises) a model for the

Quattrocento separation between common and learned language in antiquity and argues

that this separation should be upheld. Alberti, to the contrary, sees a rupture between

ancient and modern languages that he would heal not by reinstating the older Latin, but

by integrating its best aspects (copia and grammar) into the newer language, the

vernacular. Bruni describes learned, authoritative language outside historical time or

individual use; it is preserved and communicated in texts. In contrast, Alberti argues that

use, time, and human experience define language. More than simply humanistic sparring,

the curia debate and the collapse of the certame are clashes of temporal and authoritative

perspectives.
http://escholarship.org/uc/item/9009k258
It seems obvious, that there was a conflict between
vernacular poetry
- a more modern party seems to have had this interest - and
Latin poetry
- a more conservative party seems
to have this interest. The judges avoid a decision.
And we have the observation, that Petrarca's poem "Trionfi" was written as vernacular poetry (or was there also a Latin version ?).
Well, my initial problem in this thread is, why the "Trionfi" got their popularity so late and if their later greater popularity can be fixed somehow to the time "around 1440", a date, which somehow might be of relevance for the genesis of Trionfi playing cards. Now we meet a greater conflict in the literary society in Florence just rather precisely at this date between vernacular poetry and Latin poetry and the poem Trionfi seems to be clearly on the side of modern poetry.
*****************
modern party
= vernacular poetry: Leon Battista Alberti and Piero de Medici (who ordered the "Trionfi" from Matteo de Pasti)
conservative party = Latin poetry: Leonardo Bruno and Giannozzo Manetti (and also clearly his biograph: Bisticci)
*****************
The papal judges come to no clear decision in Florence for a sort of a new "poeta laureatus", but ...
1442:
Emperor Fredrick III. jumps in and declares Enea Sylvio Piccolomini to a "poeta laureatus"
1442 Juli 27 Frankfurt

Kg. F. bekennt, er habe sich in Anbetracht dessen, daß vergangene Zeitalter den hervorragenden Dichtern zusätzlich zu ihrem Ruhm den sonst nur Kaisern vorbehaltenen Lorbeerkranz verliehen haben und daß auch seine Vorgänger den Dichtern größte Wertschätzung entgegenbrachten, ja daß Julius Caesar in vielen epistolas et historias ebenso wie der fundator imperii, Octavianus Augustus, sogar selbst für ihren Dichterruhm geschrieben haben, nach Rücksprache mit seinen Ratgebern dazu entschlossen, nach der fast vergessenen Sitte, die herausragenden Dichter nach dem Vorbild der römischen Triumphatoren auf dem Kapitol zu krönen, den weithin berühmten Dichter und den ihm und dem Reich treu ergebenen Eneas Silvius Piccolomini aus Siena, von dessen profundem Wissen, Sittlichkeit und natürlichen Begabungen er sich ein Bild machen konnte und der es, gestützt auf sein intensives Studium alter Bücher und aus eigener Forschung zu einem Meister der Dichtkunst gebracht hat, als Magister, Dichter und ausgezeichneten Historiker mit dem Titel eines preclarus magister auszuzeichnen und ihn eigenhändig und feierlich mit diesen immergrünen Lorbeerzweigen und -blättern zu schmücken, damit auf diese Weise sein Name und sein Ruhm ewig blühe und anderen als Beispiel dienen möge. Er erlaubt ihm, allerorts Gedichte zu lesen, zu besprechen, zu interpretieren und zu verfassen, stattet ihn cum eisdem privilegiis, [immunitatibus]1, honoribus, officiis, dignitatibus, vestitu aureo et aliis quibuscumque ornamentis ac prerogativis aus, welche die poete ac liberalium et honestarum historiarum ac sacrum artium professores anderswo allenthalben genießen, und erwartet von ihm, daß er durch sein Schaffen eine Zierde des Reiches bleiben werde. 27° die mensis julii
http://regesten.regesta-imperii.de/
Enea Sylvio Piccolomini had been of big importance in the all-deciding question, if the council of Ferrara/Florence and Pope Eugen or the council of Basel and anti-Pope Felix would win the race in the public acceptation. Piccolomini, initially important for the resistance of the council of Basel, had brought the decision by "changing the sides" to his own favor and the favor of the Pope Eugen party.
So a new "poeta laureatus" after this custom wasn't used a longer time.
March 1444:
Then we've then the honor for Giannozzo Manetti in March 1444. But Manetti got enemies ...
******************
Earlier I wrote in the analyze of the Bisticci article to Manetti:
Giannozzo Manetti (1393-1459)

a person of some interest in more than one way.

1. he was responsible for a sharp attack on gaming in Pistoia in 1446/1447, which adds to our general suspicion, that in the 40's of 15th century the situation for playing cards was difficult.

2. He became a crowned poetus laureatus in 1443 ... this is of interest to the general Trionfi development, for instance to Alberti's literary contest in 1441. And of special interest is Bisticci's "they crowned him with a laurel crown, a custom which had not lately been observed." ... which should mean, that an old custom was revived after a long time.

"He condemned the worthless and the sluggards. Gamblers and gaming he hated as pestiferous abominations."

http://books.google.com/books?id=lyMQTg ... #PPA375,M1

"Giannozzo was governor of Pistoia and, as at Pescia, would accept neither gift nor tribute. He kept more servants and horses than the law allowed. The place was given to gaming; indeed the people thought of little else. Hating this vice as he did, he resolved to put an end to it as long as he was there, and to effect this he issued a proclamation that whoever should play any forbidden game should be taken and treated with four strokes with a rope. Moreover, he fixed a fine which every offender would have to pay, wherefore during his time of office gaming ceased."

(Source of possible interest in this matter: Giannozzo Manetti, Chronicon pistoriensis [Historia pistoriensis], in Rerum italicarum scriptores, a cura di L. A. Muratori, vol. XIX, Milano, 1731, coll. 987-1076, probably written 1446 - 1447)

Pistoia had 996 households in 1442, Manetti's work started Oktober 1446.

http://books.google.com/books?id=seDbXV ... kywvSyoMBQ

"On his return to Florence he was drawn for the Assembly, and about this time Messer Lionardo of Arezzo died (1443). The Signoria decided that his memory should be honoured in every possible way. It was decreed that the custom of delivering a funeral oration should be revived and Giannozzo was charged with this duty and that he should be crowned with laurel after the ancient custom. To these obsequies all the illustrious men of the city came to his coronation. Many prelates attended, as the court of Rome was then in Florence, and Giannozzo delivered an oration worthy of the subject, and they crowned him with a laurel crown, a custom which had not lately been observed."

http://books.google.com/books?id=lyMQTg ... #PPA378,M1
Then I wrote ...
Generally we have to assume, that Bisticci was against gambling (and likely also against cards). He suffered personally after the attack on Lorenzo de Medici in 1478, cause he had to leave the city. It seems, that his biographies were written after this.

Lorenzo generally was attacked, that he had a bad influence on the youth - likely the new gambling activities in connection to cards belonged to this category.

Generally Bisticci should have also suffered by the change of his own business - the new printing industry was his oppnent.

He possibly might be seen "as rather conservative" ... but generally

his presentation somehow makes it difficult to believe in a strong playing card development in Florence already in 1450.
My expectation "his presentation somehow makes it difficult to believe in a strong playing card development in Florence already in 1450" has become wrong by Franco Pratesi's researches to the Florentine playing card merchants.
But still we have this valley in the silk-dealers statistic ...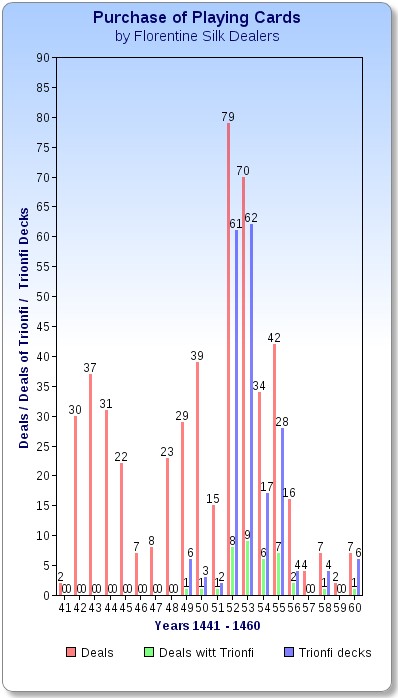 ... around the years 1446-47, just the time, when Giannozzo Manetti had his initiative against gambling in Pistoia.
After Manetti had been in Pistoia there was a mockery phenomenon in Florence literature "against Giannozzo Manetti" and in later years 1453/54 we've more opposiion against him and we have, that Manetti, once the great poet, has to go in exile, away from Florence. And just in this time we observe the success of the Trionfi decks in Florence at the silk dealer statistic.