It seems relatively clear from my own research, that the person Giovanni di Domenico, known as producer of Trionfi cards in Florence in the years 1449-1453, is the father of Francesco Botticini.
http://en.wikipedia.org/wiki/Francesco_Botticini
http://it.wikipedia.org/wiki/Francesco_Botticini
Figlio di Giovanni di Domenico

, pittore di

"naibi" (carte da gioco)

, fu discepolo di Neri di Bicci, ma nella sua formazione intervennero anche Botticelli, Filippino Lippi, Verrocchio, il Pollaiolo e Andrea del Castagno. Secondo la critica i Botticini (sia Francesco che Raffaello) si limitarono ad imitare i grandi maestri dei quali si avverte l'influenza nelle loro opere.
"Son of Giovanni di Domenico, painter of naibi"
As it seems, Giovanni di Domenico had been already active with playing cards in 1430. Botticini (the son) was probably born in 1446.
Snippets of his life are in ...
"Francesco Botticini"
Lisa Venturini
Edifir, 1994 - 246 pages
http://books.google.de/books?id=99_qAAA ... edir_esc=y
Franco Pratesi made this list ("aquired by silk-dealers") from him: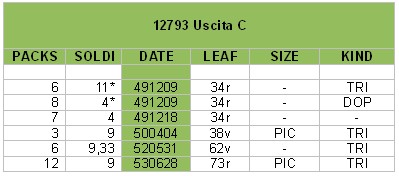 http://trionfi.com/naibi-aquired
Franco notes:
c. Giovanni di Domenico
We only meet Giovanni di Domenico at the end of 1449 and he enters the records in an interesting way. He is at once indicated as dipintore, a painter, and his first supply contains both six packs of trionfi and eight packs of naibi doppi. At least one pack of trionfi had already been sold by the silk-dealers (January 1445)(1), but these seem to be the first packs recorded as acquired. The total price is 4L.18s. and if we assume that the naibi were priced at 4s. as those acquired a few days later, a unit cost of 11s. can be deduced for trionfi, a relatively low price, very similar to the 9s.6d. cost of naibi made by Antonio di Simone.
It seems that the production of Giovanni could substitute, trionfi apart, that of Antonio di Dino, at a similar level of overall quality, but he did not become a frequent supplier, except for a few trionfi. In alternative to Antonio di Dino, whom we find also later on, Matteo Ballerini was apparently preferred, for unknown reasons (maybe just more purchases of silks).