The positions of the virtues seem to suggest, at least to me, that Love and Triumph are not merely intended to be
Eros
and War.
Love to be
just
must be
good
and would ideally include
philia
, and
agape
. The whims of lust wouldn't warrant inclusion on the good side of the wheel at all, and would be better placed as part of the reversal on the downturn of the wheel. The Devil would best represent lust among the trumps in my opinion.
The Love allegory in the Tarot de Marseille seems to be derived from one of Alciato's emblem's,
Faithfulness
.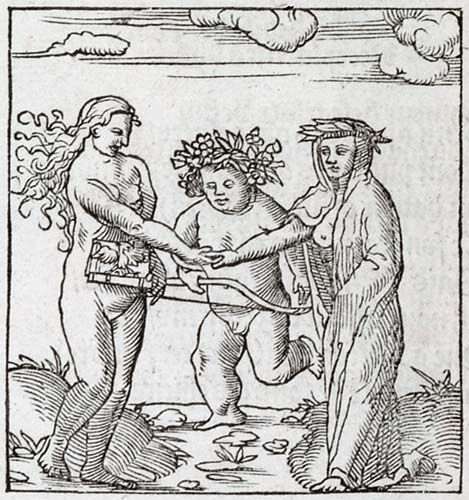 The middle figure, which is sometime shown as cupid-like, or in the Tarot de Marseille version is cupid's target, is called Love. The figure with the laurel crown is Truth, and the third figure is Honor. I also find great delight in re-interpreting the figures as Eros, Agape, and Philia.
By extensions, as the opposite of Death, this card can be seen to represent the pleasures of youth rather generally - youth, health, beauty, all manner of enjoyments, etc.
The Chariot, as I see it, seems to be more about
position
, as in honors, rank, reputation,
fama
, etc., than the actual act of warring.
Maybe I'm just not in tune with the 15th century mindset, but
conquest
as the main idea with these two trumps seems odd.
It seems to me that Justice sits with Love and the Chariot, as they are good and right and beautiful. To be just and fair, one must first be good. Certainly Time and fickle Fortune can not be just, nor can Betrayal or Death. Only here can Justice find her place.