At the tail end of last year, I found a weird Etteilla document in the catalogue of the Wellcome Library. They dated it to approximately 1790 and described it as being similar to some of Etteilla's other works. I made arrangements to have it scanned and put online. Yesterday, I got an email from the image service saying that my order had been completed. Here are the scans if anyone is interested:
https://wellcomelibrary.org/item/b19175334
At first, I believed it to be a handwritten "book proof" for Etteilla's unpublished 1782 book that was rejected by the censors and later reworked into the 1783 book titled
Manière de se récréer avec le Jeu de Cartes nommées Tarots, pour servir de troisième Cahier à cet ouvrage
, which we now regard as "ground zero" for modern Tarot cartomancy. Upon further inspection, I now believe it to be something else. I'll explain my line of thinking point-by-point.
TITLES
The first thing I looked at was the title page. It reads
Tablette categorique des significations du Livre de Thot
. I'm never heard of this title before today. Searching online, I could only find one mention of it anywhere. See page 156 of the book here:
https://books.google.com/books?id=yfsGmO20EokC
. This book is from 1805, so we know that our mystery document dates from before then.
If you look at the title page closely, it's apparent that the text has been pasted over the original page.
On the back of the title page, you can see where the ink from another title bled through. The words "Cartonomantie" and "ou" are clearly visible.
According to the biography by J.-B. Millet-Saint-Pierre, Etteilla was furious about the title "
Manière de se récréer avec le Jeu de Cartes nommées Tarots
" being forced on him by the censors, and he continued to argue throughout his lifetime that the "real" title of his 4-Cahier opus was
La Cartonomancie Egyptienne ou les Tarots
. Additionally, on page 83 of
A Wicked Pack of Cards
DDD state that they found an archive record listing the original title as
Cartonomanie Egiptienne, ou interprétation de 78 hierogliphes qui sont sur les cartes nommées Tarots
. In the right-hand column of this record, someone has written, "cancelled 20 November 1782."
Sure enough, later in this document we find the phrase "La Cartonomancie Egyptienne" again. Combined with the pasted-over title, it looks more and more likely that this is the 1782 book, doesn't it?
THE FOOL
Over time, Etteilla seemed to change his thinking regarding the placement of the Fool. In his 3rd Cahier (published in 1783), Etteilla numbers it 0 and places it between cards 21 and 22. In subsequent publications, he's changed the number to 78 and moved it to the end of the deck where it will remain for the rest of his career. This document places the Fool between cards 21 and 22, indicating that it aligns with Etteilla's pre-1783 way of thinking (see below). So far so good!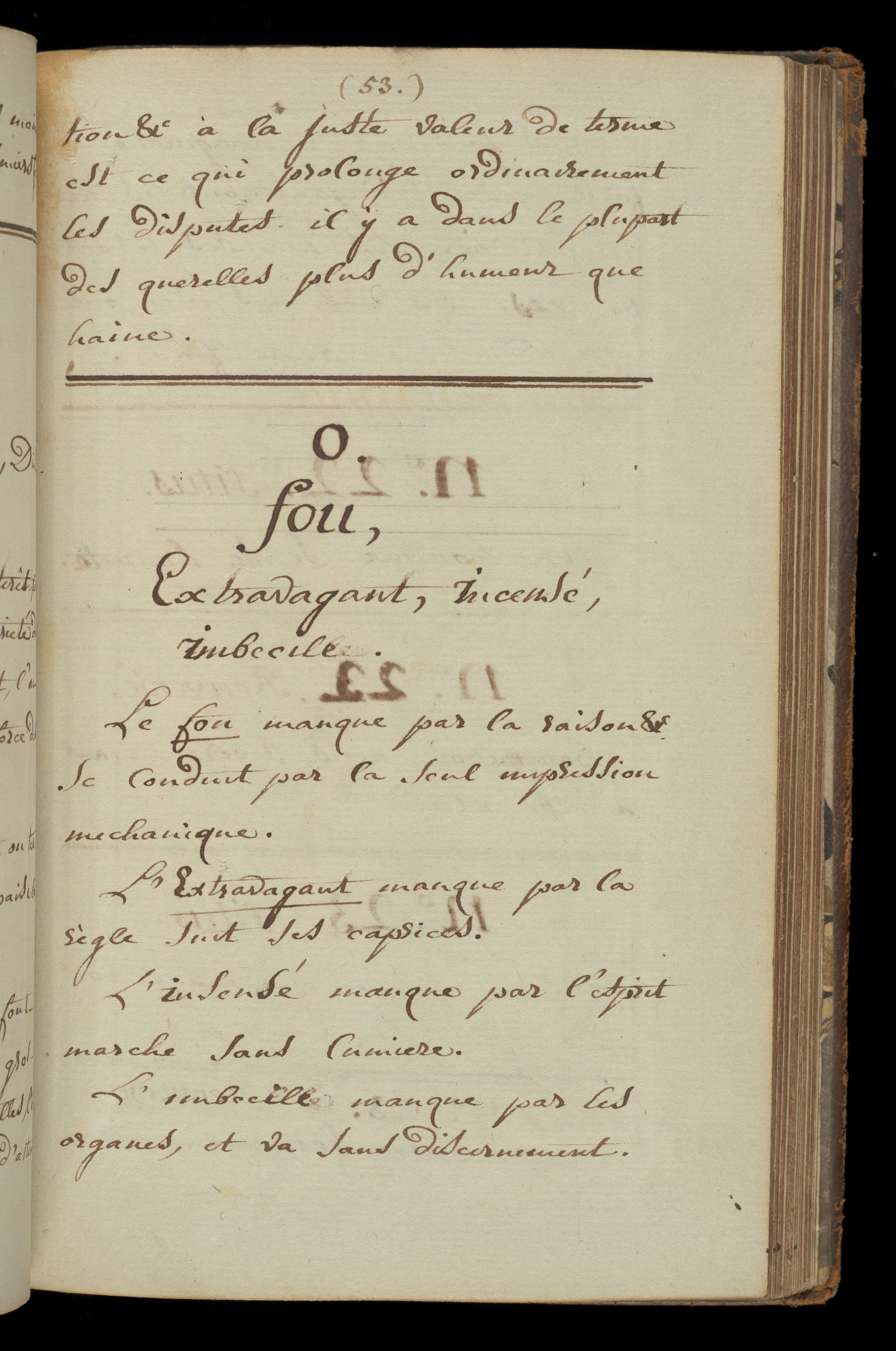 However, we must also remember that in contrast to Etteilla's other students (and Etteilla himself, in his later years), Joubert de La Salette reverted back to the older placement of the Fool in his
Dictionnaire Synonimique du Livre de Thot
(1791). See here:
https://archive.org/details/1791dictionnairesynonimique
DIVINATORY KEYWORDS
Additionally, Etteilla made small modifications to his divinatory keywords after his 1783 publication. By the time he published his deck in 1789, several of them had been changed. Comparing the 1783 keywords with those from 1789, there are noticeable differences:
22. Un homme -> Homme de campagne
23. Une femme -> Femme de campagne
25. Bon Etranger -> Etranger
...
etc.
The synonyms in our mystery document seem to be closer to the later keywords, which to me indicates that it was put together sometime after the publication of Etteilla's 3rd Cahier. So much for the theory that this is the 1782 book...

OTHER POSSIBILITIES
Fortunately, we have a few other candidates. =)
On page 110 of
A Wicked Pack of Cards
, DDD mention some correspondence between Joubert de La Salette and Etteilla's other students Hugand and de Bonrecueille. In 1790, La Salette appears to have sent them an early draft of his
Dictionnaire Synonimique
, which they found rather disappointing. Both Hugand and de Bonrecueille had been preparing their own versions. De Bonrecueille supposedly made a copy of La Salette's manuscript out of fear that it might not be printed. So our mystery document could be any one of four things: La Salette's rough draft, Hugand's unpublished book, de Bonrecueille's unpublished book, or de Bonrecueille's copy of La Salette's rough draft.
The approximate date given by the Wellcome Library coincides with the story of La Salette's rough draft. In examining the text of the document, there are both similarities and differences to the
Dictionnaire Synonimique
. In the descriptions of each card, the document uses complete sentences in several places, whereas the Dictionnaire merely lists words and phrases. At the end of the Dictionnaire, there's an index of keywords. This feature also appears in our mystery document, (see below).
Although the Dictionnaire includes the zodiac signs on the first 12 cards in accordance with Etteilla, the planetary symbols which appear on Etteilla's coin cards are absent. Our mystery document includes not only the planetary correspondences but also additional astrological symbols written next to cards 62-67, which I've never seen in any other Etteilla work. The author adds the four asteroids (Ceres, Pallas, Juno, and Vesta), Earth, and Uranus. At the time, these were all regarded as planets. Neptune had not been discovered yet, so it is nowhere to be found.
62. Pallas
63. Ceres
64. Uranus
65. Vesta
66. Earth
67. Juno
68. Part of Fortune
69. Cauda draconis (ascending lunar node)
70. Caput draconis (descending lunar node)
71. Saturn
72. Jupiter
73. Mars
74. The Moon
75. Venus
76. Mercury
77. The Sun
That's all I've found for now. I might start transcribing the text so that we can put together a decent translation. That might reveal more clues as to document's identity.