Ross G. R. Caldwell

wrote:

↑

01 Aug 2020, 10:35

"Black" Venus and shield comparison, same photograph, same scale. The dark blue-black of the shields should be silver. Perhaps the artist painted Venus silver as well, and she has similarly blackened.
I can confirm this is correct per below. The upper right image is the stemma of the county of
Papie
/Pavia - but given the large size of the
Stemmario Trivulziano
they did not use expensive silver leaf (but note the same three eagles on the upper right shield, matching the shield on the upper left of the Semideus):
On this single leaf (torn out and now in the Wallace Collection) by Cristoforo de Predis, Initial 'A' with Galeazzo Maria Sforza in prayer, 1477 (?), note the same Pavia stemma on the shield on the middle far right but also the standard G.M. Sforza stemma in the bottom margin - both oxidized silver:
https://www.wallacecollection.org/blog/war-and-peace/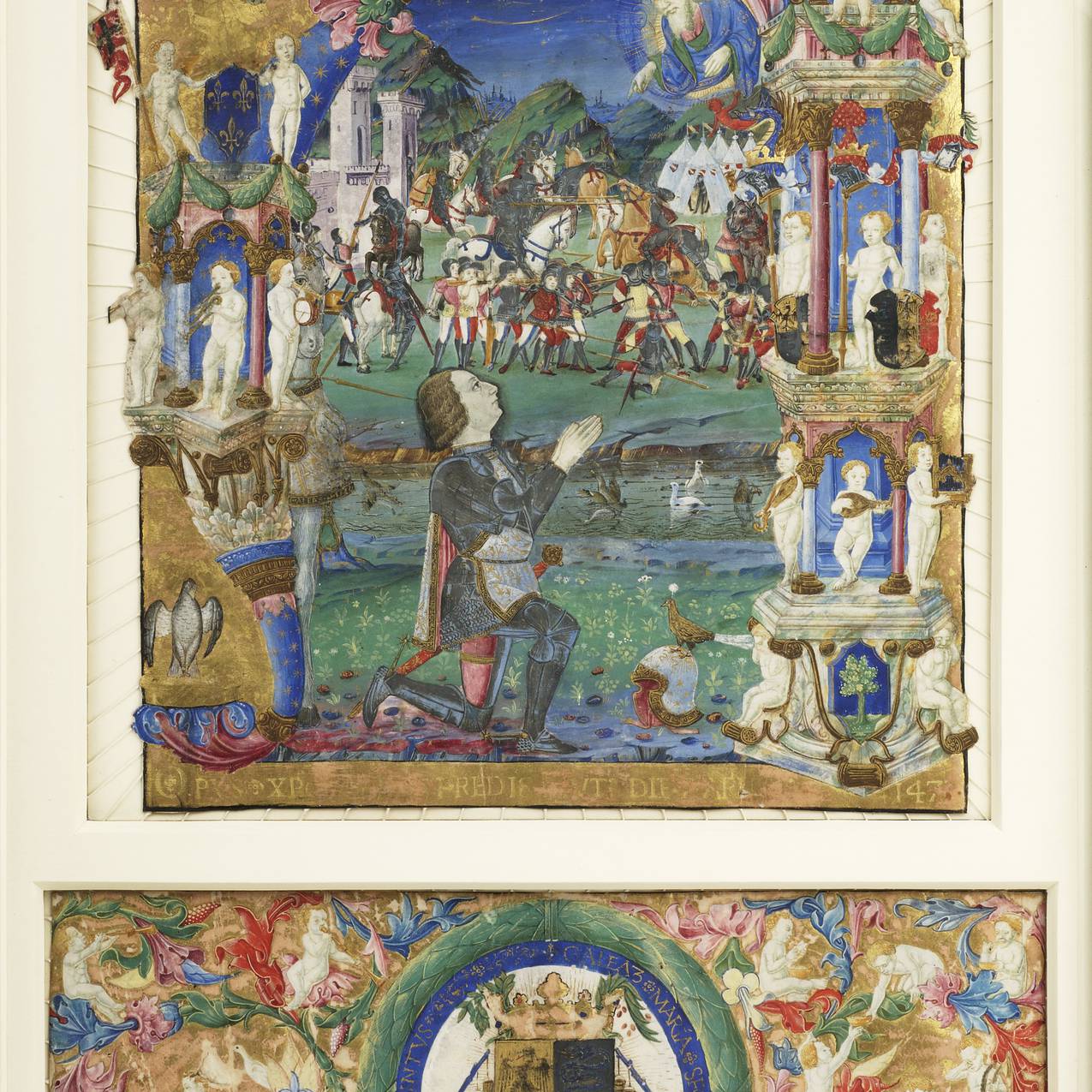 But why is Venus is singled out for silver leaf? Boccaccio says she has a "Phlegmatic complexion" (III.22.5, Solomon p. 383) which can be bloodless/white but that hardly seems to warrant silver. I think it has to be because this is her planetary aspect, white and the brightest "star" in the sky: "Hesperus among the Greeks is a name appropriate for the planet, especially when it sets after the sun, and therefore she is also called Vesper, as is clear in Vergil: 'Sooner would Vesper set the day's close on Olympus.'" (Boccaccio III.22.19-20, Solomon 395-397).