Ross G. R. Caldwell

wrote:

↑

23 Jun 2020, 18:36

Excellent observations and insights, Phaeded. Thank you.

I too thought Meiss and Kirsch were pretty lazy in their interpretation of the child stabbing the lion. It is obviously redolent with specific symbolism. One thought that occurred to (not to disregard yours, but just to put it out there) is that it might be topical, i.e. it might date the manuscript to the wars with Venice, so only as early as 1424. But maybe that is

too

topical an interpretation.

Also, I must have overlooked your interpretation of the sun-face held by the cherub in the card; I really like it.

I'll have to consider your views on the virtues as models for the "good" heroes.
Given my interpretation of the lion on the PMB Strength and PMB King of Swords' shield, I was always drawn to an interpretation of the lion as related to Venice, but it just never seemed quite right -
who exactly is that caped child
(surely not Filippo, depicted as a grown man across the page)? Given the presence of God Himself on this leaf, any veering away from a religious interpretation into the purely political would seem extremely dubious. The cape's red cord could be meant to be coral (Christ's blood/passion) and the cape itself is gold, fitting of a "king", so I think we have to see this image as at least prefiguring (the primary scene is Eden) the future arrival of the Savior (born of the second/new "Eve") and His banishment of vice/sin. I may have edit-added this detail after you replied - but look at that goofy/smug smile on the lion - it has to be indicative of Pride. Otherwise what has Eve's guilt got to do with conquering one's enemies? Instead look at the rather extraordinary sequence of leaves pertaining to the conquering of Jericho, LF129v - which features the Cardinal virtues in the militant aspect of conquering vices - through LF132v, which rather does suitably pertain to the conquering of enemies (thus no Theologicals or Humility). And Prudence, the virtue of governing, is now in the top spot of LF132v, not Faith, as was the case in LF11v, the "Celestial Court" image analyzed above.
Really odd for Filippo to link himself with Humility (especially when its significance was waning in the quattrocento), but when considered as the root of all the virtues, then a symbol of humility could be shorthand for Virtue in general. Belbello was not going to cram all 12 virtues into the pendant on this leaf and indeed, dei Grassi didn't even do that for Giangaleazzo for any of his leaves. And the context here is sin - Original Sin - Humility is appropriate as no one is without that flaw, including our 'semideus' Filippo.
Added - this just came to me with an "of course": why the child is 'caped', again in a prefiguring sense - central to Christ's passion -
Ecce Homo
(could anything else speak more succinctly to the virtue of humility?):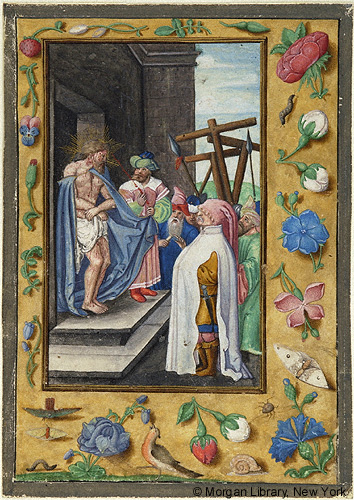 Also added: Re. "interpretation of the sun-face held by the cherub in the card" (PMB Sun as fulfilling the Ambrosian Republic neglected "funeral rites" for Filippo):