These first two items below have been talked about in depth here, so surprised they are missing from the current discussion:
1. The fool has goiter, which was read as a mark of the insane
2. Giotto's Foolishness holds a club and looks upwards like the manuscript depictions of the God-denying fool of Psalms 14 and 53; the most obvious influence on the PMB Fool is Giotto, ergo Psalms. Or as Giotto quite clearly conveyed - Foolishness or
imprudence
- this vice is directly opposite the virtue of Prudence.
3. The significance of the feathers for Giotto is most likely explained in Ruth Mellinkoff, "Demonic Winged Headgear,"
Viator
16 (1985): 367–81.
What is depicted in the PMB Fool trump is not just a peasant, but the lowest of the low: an insane atheist, if not possessed. The PMB Fool is also auto-erotically charged (apparently in public, another reason to be wary of him) as he reaches for his genitals (at least indicates them). Why he would have had anything to do with a religious event - other than as the negation of religion - remains unsatisfactorily explained.
The PMB Fool is a cautionary tale, representative of the lowest order of the
popolo
: beware the easily mislead rabble, such as their anarchic manifestation in the Ciompi uprising (seen as such by the established guildsmen and magnates...or a Duke that had to "clean up the mess" of the Ambrosian Republic lead by a baker and a butcher at the end).
Take away knowledge of the past and thoughts of the future (i.e., 2 of the faces of 3-faced Prudence), and you have an imprudent man mindlessly living hand-to-mouth like a beast, only in the
present
.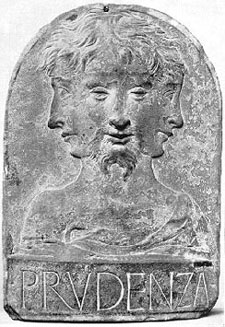 One could even call the PMB Fool's hair "leonine", which leads us to Titian's allegory of prudence: EX PRAETERITO/PRAESENS PRUDENTER AGIT/NE FUTURA ACTIONẼ DETURPET ("From the experience of the past, the present acts prudently, lest it spoil future actions").
(the 3 animal heads of course do not originate with Titian but with Macrobius,
Saturnalia
, I, 20, 13-14, where he allegorically describes the cerberus associated with Sarapis as a symbol of time)