Mike H.,
As a long-time subscriber of the Prudence-"World" conflation theory, I thought I'd offer that by c. 1470 (minchiate's inception date) that an entire generation of card-players had come to understand Prudence as "world." Thus when Prudence was added with her canonical attributes, the "world" was kept as well in minchiate.
There has been a growing a consensus that the CVI is Florentine, and thus that is the closest we get in time to a Florentine ur-tarot. Certain CVI-minchiate comparisons seem to bear out that the CVI is indeed Florentine:
CVI hanged man and an Etruia and Leone minchiate hanged man (the bags in each hand are unique to the CVI in hand-painted tarot decks):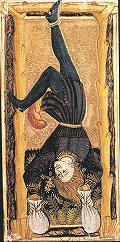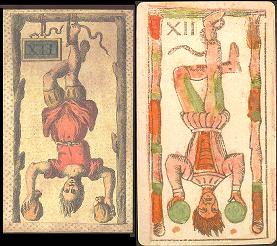 CVI Death and minchiate (the sickle blade across the top is very close)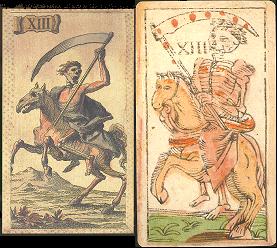 CVI World-as-Virtue, minchiate Prudence, Minchiate theological and CVI "standard" virtue (Justice):
Naturally the "World" loses its Virtue halo when Prudence gets added back in as a Virtue proper, but why was "World" ever given a Virtue halo in Florence...if in fact they didn't know precisely what it was (the Virtue elevated to the highest position, director of worldly affairs)? And Prudence-proper's high placement in minchiate reflects its high placement as Prudence-World in tarot.
Phaeded