I know, that some totally neglect everything, that connect chess and Tarot. Nonetheless I personally think, that the reason, why this Tower-symbol ...
... was presented at No. 20, depends on the condition, that the Tower was connected to the Rook in Chess, and the Rook was the strongest figure on the chess board, and so it had to have a high position.
Similar in the Boiardo Tarocchi poem, we have in the 3-line tercet which corresponds to No 20 ...
Oblivion di termine e confine

Del tutto sei, Elice e Dido a Lethe

Menasti, e famma e tempo hai in toe

ruine

.
... the keyword "ruine" or in English "ruin" ...
Oblivion, you are the end and boundary

Of all, you took to Lethe Elice and Dido,

And among your

ruins

you have

fame

and

time

.
... together with the keywords Fame and Time (both keywords are connected to other tarot cards).
Fame and Time now appear in the tercets 19 and 21 ...
19 Time

, you that hurry men to

death

,

You saved Nestor, and if in the end he came to an end,

It seems impossible to think of such a life.

...

21 Inner

strength

made happy the death of

Lucretia: to clean her

fame

She killed herself, and she prepared for the offender a dark net,

Giving an example to those who love their own name and honour.
... so that I would think, that the intended row of Tarot symbols inside the Boiardo Tarocchi poem and sort of chess context would mean ...
19 TIME
20 TOWER (Rook)
21 FAME (Rook)
... though there are a confusing "death" mentioned in 19 and a confusing "strength" in 21 (again other Tarot card names).
*************
Today I took a view on sun symbols (my post
viewtopic.php?f=23&p=15605#p15605
) and looked for a possible sun in the Sola Busca, and I came up with the idea, that it must be No 16 ...
... cause of the symbol in the upper right corner.
I took a further look and detected a Moon at card No 12 presented with a ...
... bow and arrows, which fit to the bow form of the crescent.
I detected a star at No 13 (small, right upper corner) ...
... and going back to No 17, I found an Angel and ...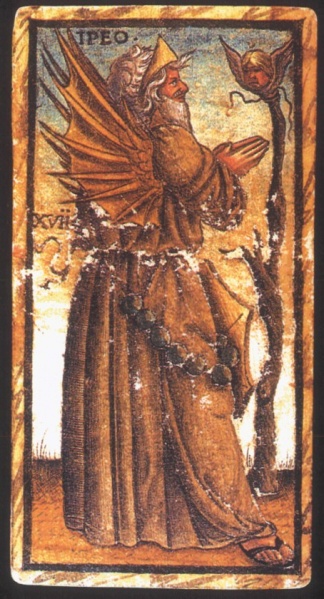 ... a man with wings.
The numbers ...
... -12-13- ... -16-17- ... 20 ... have a rythm, especially, if I would conclude, that 21 would be Fame (or World).
12 Moon
13 Star
(14)
(15)
16 Sun
17 Angel
(18)
(19)
20 Tower
21 Fame (or World)
The six usual top trumps (16-21) seem to be rearranged by a sort of system.
************
At ...
viewtopic.php?f=11&t=988&p=14716&hilit=olivo#p14716
... MikeH once quoted the recent Sola-Busca literature. It contradicts my consideration above, and MikeH gave a critique on the base of his own arguments.
************
If I follow the system, that is indicated by my observation, I would expect, that No 4-5 and 8-9 would proceed with a presentation of cards, which belong to the upper part of the Tarot cards, which would be (likely) 15 Devil, 13 Death, Hanging Man and possibly Justice (high in Ferrara) or Temperance (high in Milan) or Father Time.
Number 5
...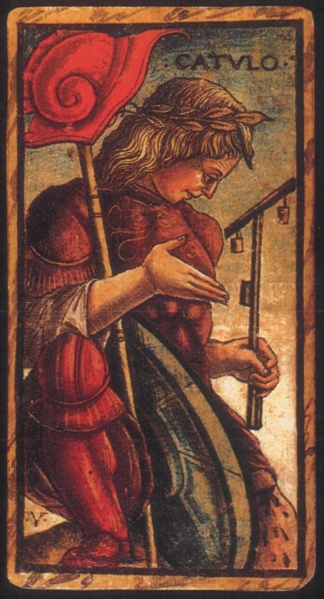 ... has a strange tool in his hand, and we once discovered a similar tool in context of a "Father Time" at the Casa Rella in Trento.
viewtopic.php?f=11&t=643&p=9607&hilit=catulo#p9607
Finally we found, that the strange tool is part of a clock.
Great identification.

at ...

http://de.wikipedia.org/wiki/Foliot

Indeed it's interesting, that we've a clear mixing of Time (clock) and lantern.
So indeed, though this man looks rather young, this might have been, as expected, a modernized "Father Time".
Number 8
Twice hanging objects (the not identified object and the hanging boy), this might well address the Hanging Man, as expected in this group. MikeH also found to this interpretation, whereas the Italian Sola Busa text assumed a sure Justice. Neither MikeH nor the Sola-Busca exhibition text found a Father Time in number V, likely MikeH didn't remember the Casa Rella debate (or overlooked it).
Number 4
There's a not identified symbol in the left upper corner, and at other corners of other cards this position was used to identify the meaning.
It appeared in the Lorenzo Spirito lot book (1482) and was named "Cristallina". I reported then ...
viewtopic.php?f=11&t=442&hilit=lorenzo+spirito#p5698
The second group shows

1. Sole - these are planets

2. Saturno - ...

3. Venus - ...

4. Marte - ...

5. Luna - ...

6. Mercurio - ...

....

one expects now Jupiter, but now in pairs follows

7./8.Taurus - Gemini ... that are zodiac signs

9./10. Montone (that's a joke of the author ...looks like Aries, but what is it?) - Sagitario is zodiac sign

11./12. Aquario - Aries (Zodiak)

13./14. Capricorno - Cancer (Zodiak)

15./16. Scorpione - Apollo (on a triumphal chariot) ... well, Scorpio is zodiac, but Apollo is on triumphal march

17./18.

Cristallina ???? ... that's the heaven of the stars

and then follows Iove (= Jove) (as emperor - or helmed man - with eagle shield)

19./ 20. Virgo (again with unicorn, but now from other side) [+ Libra; I forgot to mention it there]
"Cristallina" (though not with this name) appears also variously in the Mantegna Tarocchi: at Apollo (20), at Astrology (29), at Theology (30), at Cosmico (33 and Octava Sphera (48) ...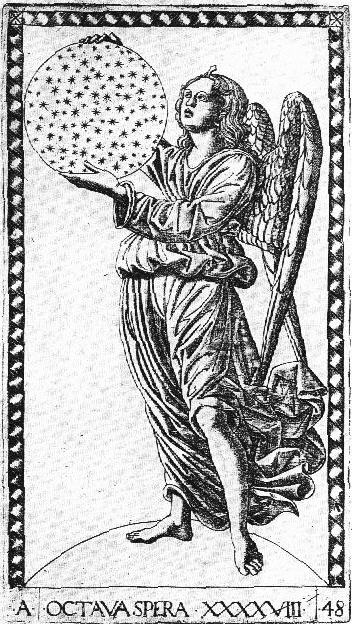 ... and in the case of Octava Sphera (48) it's also close to Jupiter (46) as in the lot book of Lorenzo Spirito ["17./18.
Cristallina ???? ... that's the heaven of the stars
and then follows Iove (= Jove) (as emperor - or helmed man - with eagle shield")]
I ... at least for this moment ... come to the conclusion, that there is possibly no devil, but just "Octava Sphera", perhaps interpreted as "darkest night, but the stars are stll burning". Perhaps the red flag from Mario tells, that one can easily misfigure this as "devilish".
Lorenzo Spirito's lot book is mainly about the wedding night (according my earlier analyses), perhaps we can discover, that the Sola-Busca also is more about the wedding night than about something else. I personally think, that it was made for the wedding of Alfonso d'Este with Anna Sforza in early 1491.
The last of the cards under suspicion is this one ...
Number 9
Nothing makes me think, that this is either Tarot Devil nor Tarot Death, but when I remember, that the devil was turned to be "Cristallina" and "Octava Sphera" and the painter 1491 possibly had studied the popular lotbook of Lorenzo Spirito printed in 1482, then I think, that this might be just Jupiter in a somewhat unusual position. "Falco" is the name, and this word could be not only used in falcon-context, but also in eagle-context, as it seems. Eagle and Jupiter together give a natural idea. Possibly the square numbers 4 (= 2*2) and "9 (= 3*3)" provoked the idea to throw devil and death out o the upper world for the occasion o a wedding night.
*************
So far this all has some logic, but one has to accept the idea, that the designer didn't slavish follow older contexts; what indeed is difficult to assume, as the Sola-Busca is indeed ratzher different to other Trionfi decks.
Mato and Panfilio ("Panfilio" is an expression, wich has special meaning in early card games, so this might be a natural name for a card figure like the Pagat. So I get till now:
0 Matto ----- Chess pawns
1 Panfilio ----- Chess pawns
(2)
(3)
4 Cristallina-Mario ---- Chess-Queen, possibly Empress ?
5 Father Time, rather young
(6)
(7)
8 Hanging Man
9 Jupiter-Falco ---- Chess-King, possibly Emperor ?
(10)
(11)
12 Moon ----- chess-bishops ?????
13 Star ----- chess-bishops ?????
(14)
(15)
16 Sun ---- chess-knights ?????
17 Angel ---- chess knights ?????
(18)
(19)
20 Tower - Rook
21 Fame - Rook
Well, if indeed Jupiter-Falco has to be interpreted in a sexual manner (erected male genital), the accompanying "Hanging Man" as an opposite becomes a rather funny expression (hanging male genital) in contrast to the bloody action done by Nerone at this card.
*************
So let's look, what's with the rest of it ... later.